Quick easy one bowl paleo bread recipe that's gluten free, grain free, dairy free, low glycemic, and diabetic friendly. Great for sandwiches!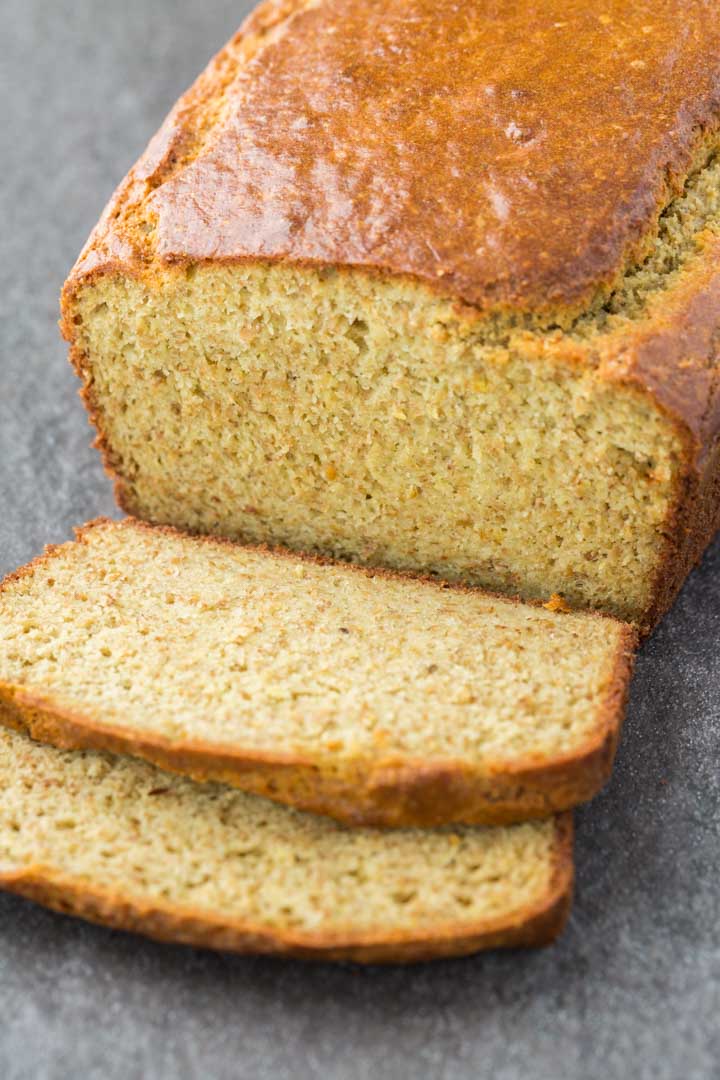 Paleo Bread Recipe
One of the problems with a gluten free diet is that many gluten free breads are highly processed and not particularly nutritious.
So I've turned to paleo bread baking to make a gluten free bread that's not only delicious, but nutritious, too! And fast, because it's a one bowl quick bread, which means you just mix, pour, and bake—no yeast and no rising time.
The best thing about this recipe is how well it works for a variety of dietary requirements.
It's paleo, of course, but it's also gluten free, reduced carb, and diabetic friendly. With around 8 grams of net carbs per slice (12 grams of carbs minus 4 grams of fiber), you'll find it a welcome addition to your table.
Here are some common questions I ran across while working on perfecting this recipe.
Can you have bread on paleo?
Yes, you can have bread on paleo because there are many paleo-compatible ingredients that can be used to bake bread.
What is paleo bread made from?
Almond flour, golden flaxseed meal, arrowroot flour, olive oil, honey, eggs, salt, and leavening powders to help the bread rise without yeast.
While testing this recipe, I kept a spreadsheet to make notes on every ingredient variation. That's how seriously I take my bread!
What bread is paleo friendly?
Bread made from the flour of nuts, seeds, and roots is more likely to be paleo friendly. Before choosing a paleo bread or a paleo bread recipe, check ingredient lists carefully. Avoid dairy, grains, and refined sugars.
How can you use paleo bread?
You can use paleo bread any way you would use conventional sandwich bread. You can eat it plain, or make it into garlic bread. It toasts beautifully and works well with sweet or savory spreads.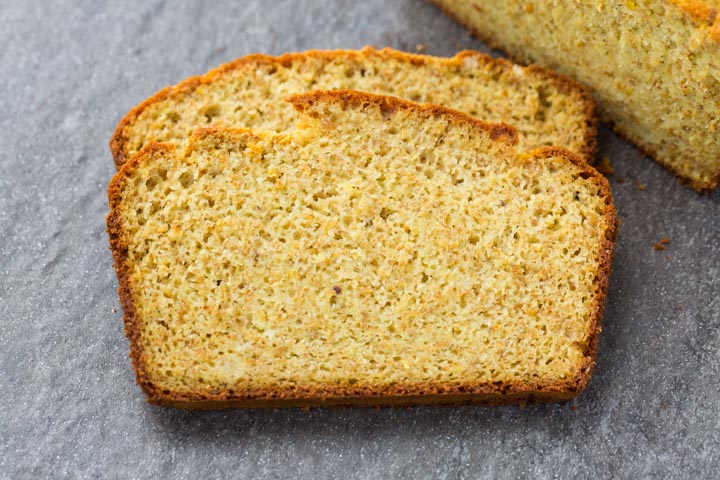 Tips for Making This Bread
Make sure you get golden flaxseed meal. Regular flaxseed meal has a much darker color and a stronger flavor that can be overpowering in bread. Read up on the difference here.
Use a mild olive oil, not a robustly flavored one, unless you are intentionally going for a more olive oil-flavored loaf.
Like any gluten free recipe, substitutions can be a little tricky. In this recipe, you can use your favorite liquid oil in place of the olive oil, but I recommend you stick to the correct types and quantities of flour to get the best result.
As it bakes, you may notice that a little "hat" of crust pops up on one side or the other (or both) of the loaf. This is normal and indicates that the bread is rising as it should. Bread without gluten, grains, or gums is not very stretchy, so you'll get a unique shape to the top of the loaf every time.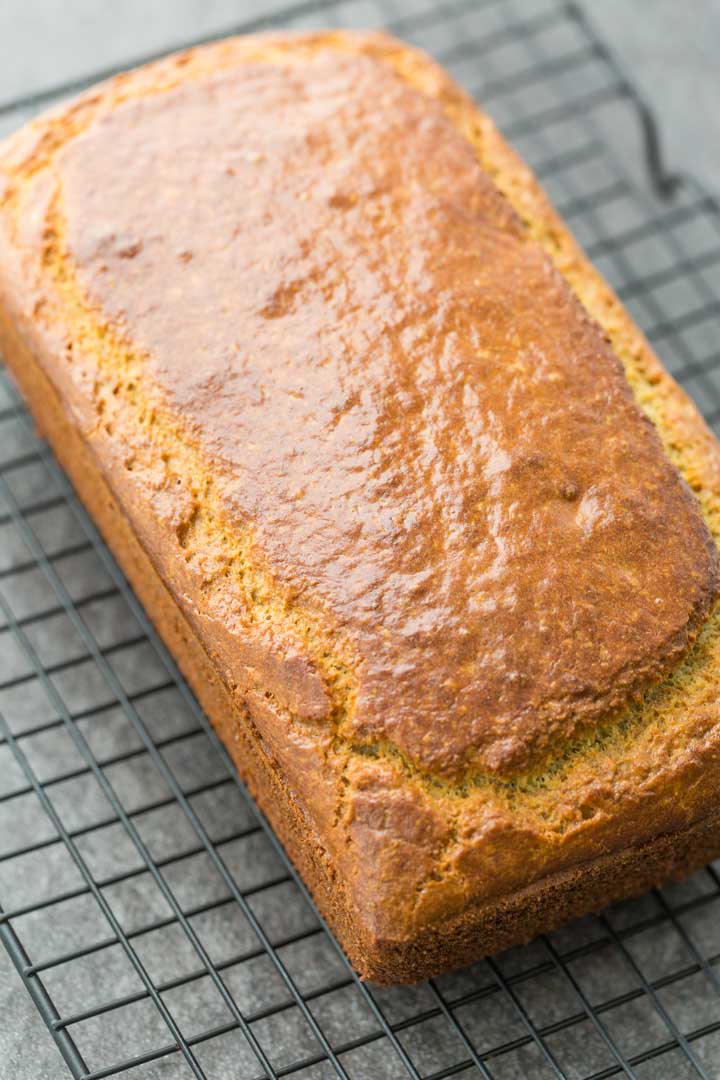 In summary, this rich and hearty paleo bread is delicious, filling, and suitable for any purpose. Enjoy!
Looking for more recipes compatible with gluten free, paleo, keto, and low carb lifestyles? Try my famous keto breakfast bowl.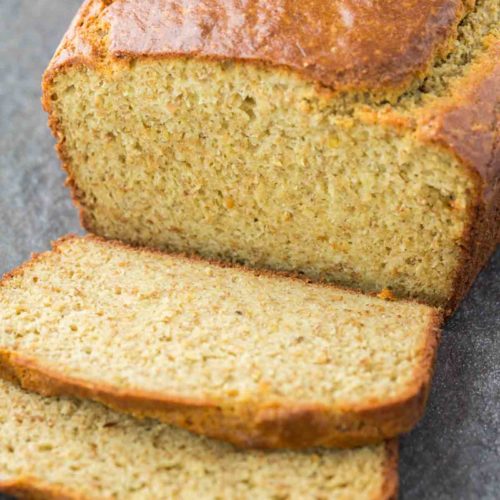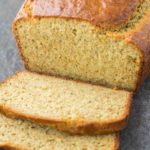 Paleo Bread Recipe
Quick easy one bowl paleo bread recipe that's gluten free, grain free, dairy free, low glycemic, and diabetic friendly. Great for sandwiches!
Ingredients
1/4

cup

water

4

large eggs

1/4

cup

olive oil

mild flavor

1

tablespoon

honey

3/4

cup

golden flaxseed meal

1 1/2

cups

almond flour

1/2

cup

arrowroot flour

1

teaspoon

baking soda

1/2

teaspoon

baking powder

1/2

teaspoon

salt
Instructions
Preheat the oven to 425°F. Line an 8 inch by 4 inch pan with a piece of parchment paper as wide as the bottom of the pan in the bottom to prevent sticking. Make it extra long, so that the extra length can be folded over the short ends of the pan (this will make handles to make it easy to remove the loaf).

Combine the water, eggs, oil, and honey in a large mixing bowl. Mix well.

Pour the golden flaxseed meal over the wet mixture. Add the almond flour, arrowroot flour, baking powder, salt, and baking soda to the bowl. Mix well. Pour the batter into the prepared pan.

Bake 25 to 30 minutes, until the top of the loaf is deep golden brown. Remove from oven, then cool in the pan for 15 minutes. Run a butter knife around the edges to loosen the loaf. Turn the loaf out onto a wire rack and cool completely. Store airtight and refrigerated.
Recipe Notes
You can use a 9 inch by 4 inch pan, but the loaf will be flatter because it's more spread out.
This recipe is easily doubled, but if you double it, cook it in two 8 inch by 4 inch pans.  If you try to bake a double recipe in one large pan, it won't cook all the way through the middle (I've tried it).
Nutrition Facts
Paleo Bread Recipe
Amount Per Serving
Calories 239
Calories from Fat 171
% Daily Value*
Fat 19g29%
Cholesterol 55mg18%
Sodium 167mg7%
Potassium 135mg4%
Carbohydrates 12g4%
Protein 7g14%
Vitamin A 79IU2%
Calcium 80mg8%
Iron 1mg6%
* Percent Daily Values are based on a 2000 calorie diet.