Power up your smoothie with peanut butter, jelly, bananas… and spinach! This PBJ Spinach Banana smoothie is healthy and it tastes fantastic.  This recipe is sponsored by Abbott.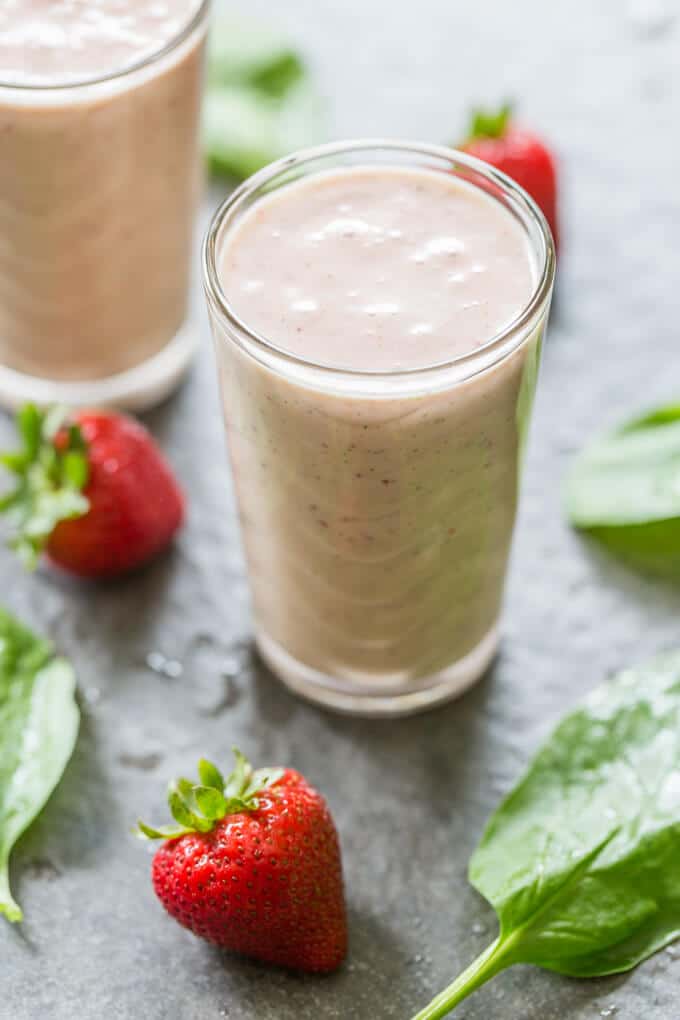 PBJ Spinach Banana Smoothie
Smoothies are like an artist's empty canvas.  Every dab of creative inspiration is one touch closer to a masterpiece.
When you experiment with smoothie ingredients, you're no longer a kitchen serf, bound to the prosaic and the anodyne—you become a smoothie artiste.
In that spirit, I decided to play with some of my favorite ingredients, and pack in a little extra healthiness while I was at it.
Have you ever heard about lutein?  Spinach and strawberries are both high in lutein.  Recently, I learned from global healthcare company Abbott that lutein is an important nutrient compound with several exciting benefits.
---
Benefits of Lutein
Enhances eye health
Improves learning and memory
Improves overall cognitive function
---
In addition to spinach and strawberries, lutein can also be found in leafy greens like kale, Swiss chard, collard greens, broccoli, egg yolks, and avocados.
This PBJ Spinach Banana Smoothie is packed with protein and other nutrients, too.  It's a great choice for breakfast, lunch, or snack time for kids and adults alike.
I like to set out the ingredients at lunch time and let my kids build their own smoothies.  With just a little guidance, they're able to make their own better-for-you smoothie.  It's fun and healthy.  Plus, it helps them learn how to make good food choices.
While my little smoothie artistes are enjoying the smoothies they made, I can take a look at resources like Abbott's Lutein Grocery Store List, which help me stay informed about nutrition and which ingredients best supply key nutrients like lutein.  It makes it easy to plan summertime meals that taste great and deliver the nutritional goodness.
Try this PBJ Spinach Banana Smoothie recipe for a #LuteinForLunch boost, and you'll appreciate just how delicious good nutrition can be—for the whole family.
Add lutein-rich ingredients to your meal plans for summertime and back-to-school to reap the benefits.
---
Tips and Substitutions When Making a PBJ Spinach Banana Smoothie
Perfectly ripe bananas are best.  Overripe bananas can taste a little musty.
You can substitute regular spinach for the baby spinach, but start with a little less spinach; it may taste a little stronger than baby spinach.
Greek yogurt is my favorite because of its flavor and the protein it contains, but you can substitute any vanilla yogurt.  Or go crazy with another flavor if you feel like it.
If you use chunky peanut butter, it will not get blended into smoothness; so use creamy peanut butter if possible.
The recipe calls for strawberries and strawberry jam.  If you only have one or the other, that's fine.  Use the amount called for, then taste and adjust (add another strawberry or a dab of jam) if necessary.
I use cow's milk, but a slightly sweet nut milk nut milk will also work.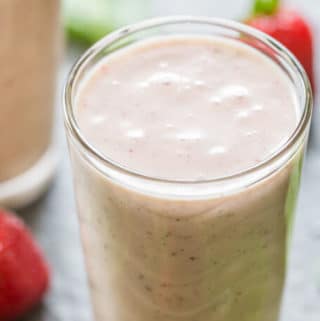 PBJ Spinach Banana Smoothie
Power up your smoothie with peanut butter, jelly, bananas... and spinach! This PBJ Spinach Banana smoothie is healthy and it tastes FANTASTIC.

Ingredients
1

banana

ripe

1/2

cup

vanilla Greek yogurt

2

tablespoons

creamy peanut butter

1

cup

strawberries

1

tablespoon

strawberry jam

1/2

cup

milk

1/4

cup

baby spinach

lightly packed

1

cup

ice
Instructions
Combine all ingredients in blender and blend until smooth. Serve immediately.
Nutrition Facts
PBJ Spinach Banana Smoothie
Amount Per Serving
Calories 280
Calories from Fat 90
% Daily Value*
Fat 10g15%
Cholesterol 7mg2%
Sodium 124mg5%
Potassium 577mg16%
Carbohydrates 39g13%
Protein 11g22%
Vitamin A 490IU10%
Vitamin C 49.4mg60%
Calcium 87mg9%
Iron 0.8mg4%
* Percent Daily Values are based on a 2000 calorie diet.
This is a sponsored post written by me on behalf of Abbott.