Real Russian borscht from an author who lived in Russia to study Russian culture and language!  Easy to follow instructions and simple ingredients.  This post contains links for affiliate shopping.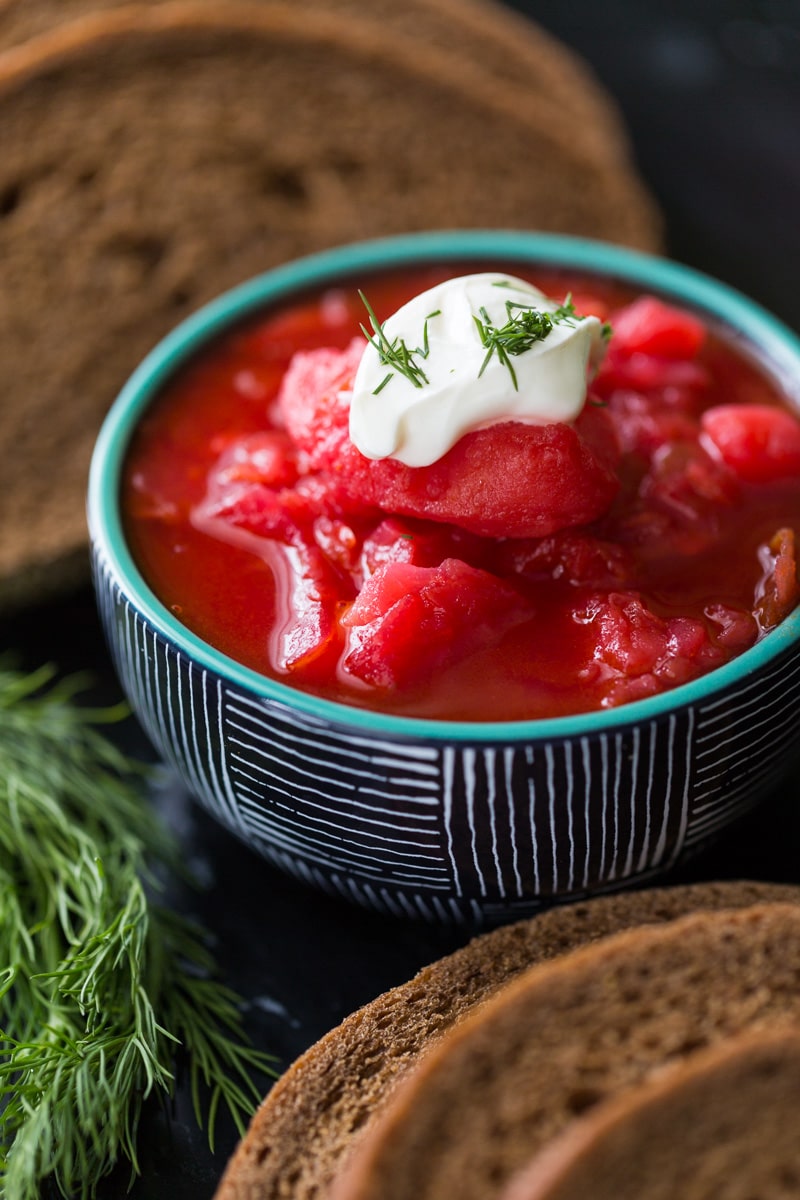 Russian Borscht
At the edge of the Russian wilderness, winter lasts most of the year and the snowdrifts grow taller than houses.  But Vasilisa doesn't mind- she spends the winter nights huddled around the embers of a fire with her beloved siblings, listening to her nurse's fairy tales.
(This and the following quotes are from the book jacket of The Bear and the Nightingale)
It's not often that a fiction book sets my imagination on fire.  The Bear and the Nightingale by Katherine Arden accomplished that by the end of the first chapter.
What does that have to do with Russian borscht, you might ask?  Well, that's the story, isn't it.  Any story, at its heart, is how the characters get from point A to point B.  Today's story is how I got from reading The Bear and the Nightingale to preparing a giant pot of borscht.
I originally picked up The Bear and the Nightingale in one of my tangential library catalog searches.  You know, the type of search where you look at one book, then click a hyperlink to another, then another, and so on until you forget exactly how you got to where you arrived.  Somehow, I arrived at The Bear and the Nightingale, reserved it, and picked it up from the library a day or two later.
Above all, she loves the chilling story of Frost, the blue-eyed winter demon, who appears in the frigid night to claim unwary souls.  Wise Russians fear him, her nurse says, and honor the spirits of house and yard and forest that protect their souls from evil.
I was hooked.
After Vasilisa's mother dies, her father goes to Moscow and brings home a new wife.  Fiercely devout, city-bred, Vasilisa's new stepmother forbids her family from honoring the household spirits.  The family acquiesces, but Vasilisa is frightened, sensing that more hinges upon their rituals than anyone knows.
Less a domino effect than an inexorable fall of snow, the consequences of neglecting the old ways mount.
…crops begin to fail, evil creatures of the forest creep nearer, and misfortune stalks the village… As danger circles, Vasilisa must defy even the people she loves and call on dangerous gifts she has long concealed- this, in order to protect her family from a threat that seems to have stepped from her nurse's most frightening tales.
Oh, I know you want to know what happens next.
After I finished reading The Bear and the Nightingale, I decided to get in touch with the author, Katherine Arden.  I was intrigued by all the sumptuous descriptions of food throughout the book: bread stuffed with honey, hot soup, feasts of roasted pork, and so on.
It turns out that not only is she a crackerjack author, but she's also a vegan and quite the cook.  It wasn't always that way.  As a Russian major at Middlebury College in Vermont, she decided that she had to either become a cook or be condemned to takeout forever.
She chose wisely.
With her giant cookbook library and an arsenal of vegan recipes that are healthy, delicious, and fulfilling, Katherine used her knowledge of cooking along with her research into Russian foodways to set the table, so to speak, in The Bear and the Nightingale.
Having lived in Russia for two years gave her a head start in assembling the details of daily life in Russia.  She also used the Domostroi, a householder's manual written in the time of Ivan the Terrible, to add authentic touches to the historical setting.  As a writer, Katherine says, "I love to think about food and it has an importance in creating texture in everyday life.  It draws you in."
On a typical day, Katherine might start the morning with fruit, such as bananas or papayas, then work straight through the day, stopping for dinner only when the day's writing is complete.  That's because she does her best work when she's hungry.  She has plenty more writing to do, because there are two sequels to The Bear and the Nightingale on the way.  Book two is already complete, and book three is currently in progress.
I asked Katherine to share with me one of her Russian recipes, and she kindly obliged with this Russian borscht recipe.  It was inspired by a friend's Russian grandmother, and is a meatless preparation perfect for Lent (or "Post" in Russia), during which Russians abstain from meat- thus the name "postny borscht" in Russian.
As prepared, it's completely vegan, but you can also add sour cream as a traditional topping.  Katherine also recommends a nice, big hunk of dark rye on the side, and I heartily concur.  But truly, there's no better pairing than a bowl of this borscht alongside a copy of The Bear and the Nightingale.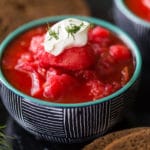 Russian Borscht
Real Russian borscht from an author who lived in Russia to study Russian culture and language! Easy to follow instructions and simple ingredients.
Total Time
1
hour
15
minutes
Ingredients
2

medium beets

peeled and grated

1

lemon

cut into thick slices

4

medium Yukon Gold potatoes

peeled and cut in eighths

1/2

cabbage

chopped

2

tbsp

olive oil

or butter

1

large onion

peeled and diced (or two medium onions)

2

carrots

shredded

3

cloves

garlic

minced

3

tomatoes

peeled and chopped

2

tbsp

tomato paste

2

bay leaves

1

tbsp

salt

1

tsp

pepper

vinegar

optional

sour cream

optional

fresh dill

optional
Instructions
Put the grated beets in a pot with enough water to barely cover, and add the thick lemon slices. Bring to a boil and simmer until the beet is soft, about 20 minutes.

Put the potatoes and cabbage together in a large stockpot with water. Boil until nearly tender, about 30 minutes.

In a frying pan with olive oil (or butter), fry the onions, garlic, and carrots until the onion is translucent. Add the tomatoes and the tomato paste, mix all together and cook on medium heat for a couple of minutes with bay leaves, salt and pepper.

When the potatoes and cabbage are nearly done, add the mix in the frying pan to the water. Remove the lemon from the beet mixture and bring all to a boil. Let it simmer at least 30-45 mins, and then once it comes off the heat, it's better if it sits half an hour or so.

Check the flavors. Add more salt or pepper to taste. If too sweet, add in a dash of vinegar. Remove the bay leaves and serve. Top with sour cream and chopped fresh dill if desired.
Nutrition Facts
Russian Borscht
Amount Per Serving
Calories 132
Calories from Fat 27
% Daily Value*
Fat 3g5%
Sodium 952mg41%
Potassium 756mg22%
Carbohydrates 22g7%
Protein 4g8%
Vitamin A 3055IU61%
Vitamin C 48.1mg58%
Calcium 71mg7%
Iron 3.6mg20%
* Percent Daily Values are based on a 2000 calorie diet.
Get your copy of The Bear and the Nightingale!