A very simple blueberry crumble that tops fresh, sweet blueberries with a crumbly, cookie-like topping.  The perfect combination.
Blueberry Crumble
Serious grocery shopping needs serious forethought.  How many times have I been out shopping, only to realize that I've forgotten to write down a recipe?  Many more times than I'd care to mention.
Just the other day, I was out at our local farmer's market.   A great place to shop for produce, to be sure, but not known for its wifi access.
I had been planning to pick up some fruit to make a crumble (I'm nearly obsessed with fruit crumble), but in my haste to leave the house I had neglected to write down the apple crumble recipe that I was adapting.
Thankfully, I had finally broken down and bought a smartphone that week, so I was able to pull up the recipe and check to see how much fruit I would need.  Turns out that I needed about 4 cups of fruit.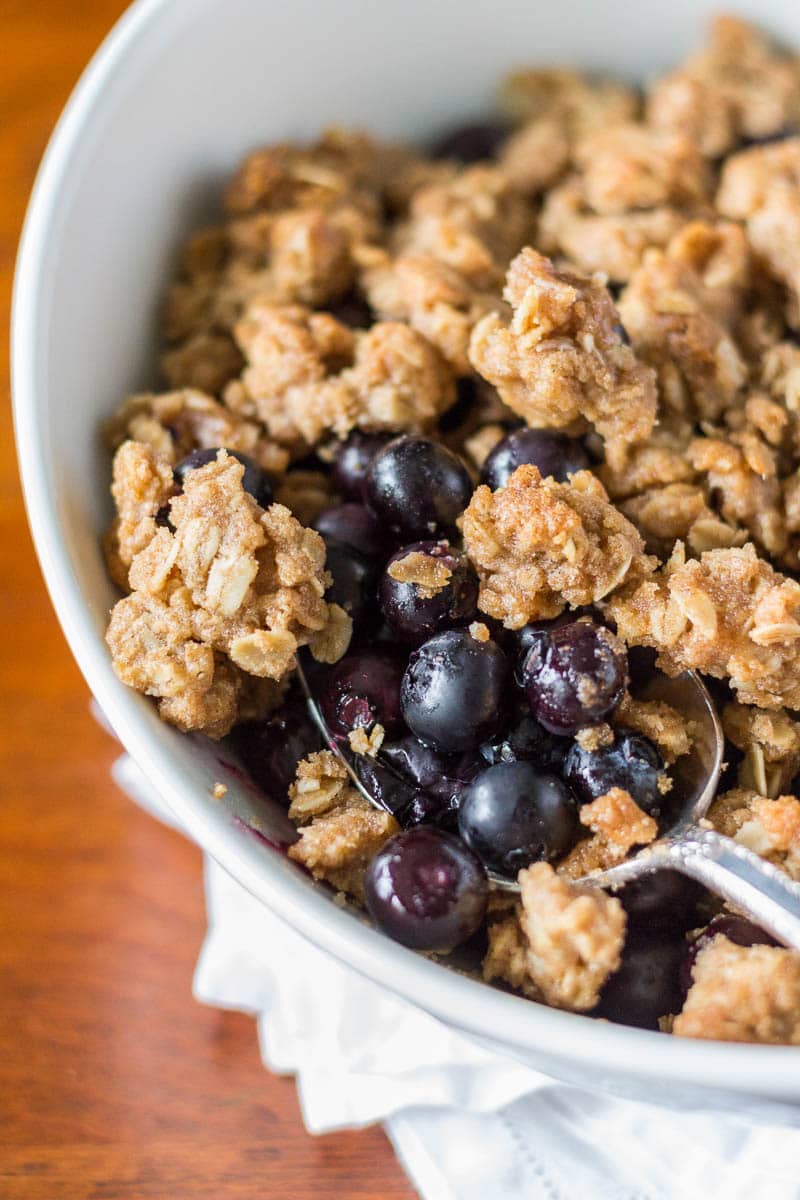 Of course, not only had I forgotten to write down the recipe, but I couldn't remember whether we had any cinnamon left in the pantry.  And cinnamon was an integral part of the recipe, so I couldn't leave it to chance.
No worries, right?  I just called my husband right from there and asked him to check the pantry for me.  Luckily, I had plenty of cinnamon left, so no need to stop at the spice table (other than gratuitous pleasure shopping).
It's funny how useful I've found that phone, after going without one for so long.  From cooking and baking prep, to keeping in touch with the people at home, I feel much more able to access what I need, when I need it.  And that means I have everything required to take care of the important stuff.
Like blueberry crumble.
Blueberry Crumble
A very simple blueberry crumble that tops fresh, sweet blueberries with a crumbly, cookie-like topping. The perfect combination.
Ingredients
4

cups

blueberries

1/2

cup

whole wheat flour

1/2

cup

old-fashioned oats

1/2

teaspoon

cinnamon

1/3

cup

brown sugar

firmly packed

Pinch of salt

6

tablespoons

unsalted butter

completely softened but not melted
Instructions
Preheat the oven to 375 F. Place the blueberries in a medium sized casserole dish or a 9 inch round cake pan.

In a mixing bowl, combine the flour, oats, cinnamon, brown sugar, salt, and butter. Mix and mash with a fork until the whole mixture sticks together loosely (like dry cookie dough) and there is no loose sugar or flour dust in the bowl.

Break the mixture into chunks and drop them evenly over the top of the blueberries. Place in the oven and bake for about 25 minutes, or until the crumble on top is nicely browned.

Let cool for a few minutes. Serve warm; over ice cream is a real treat!
If you like blueberries, you should also try my delicious Blueberry Pound Cake and this Apple Blueberry Flip Flop.  They're both absolutely wonderful!