This shop has been compensated by Collective Bias, Inc. and its advertiser.  All opinions are mine alone.  #EffortlessMeals #CollectiveBias
Food Hacks: Make a Store Bought Pizza Gourmet!
I don't think there's any busier time of year for me than back-to-school.  Even Christmas doesn't quite compare.  There's supplies to be bought, appointments to make, classrooms to prepare, last minute summer fun, and so much more.  When it comes to dinner at this time of year, I'm all about the simple and easy.  I like to cook at home whenever possible because I enjoy the relaxing feeling of not having to gear everyone up for a restaurant trip, but when time is short, I like to take cooking shortcuts where possible.  That's why I was really pleased to discover how easy the Effortless Meals at Walmart can be.  Food hacks, like this one, can really make your life easier.
It's a snap to create a meal quickly, especially when you're a busy parent on the go.  I picked up my Marketside 16″ five cheese pizza near the deli counter at Walmart, and my 2 liter of Coke on the soda aisle.  Keep an eye out for the "Effortless Meals" signs!
Not only are there Effortless Meals with pizza, but also with fully cooked rotisserie chickens, which come with a side dish, like potato salad, macaroni salad, or cole slaw.  These items are located in or near the deli as well.
The fresh taste and quick prep helps make a great mealtime experience for my family.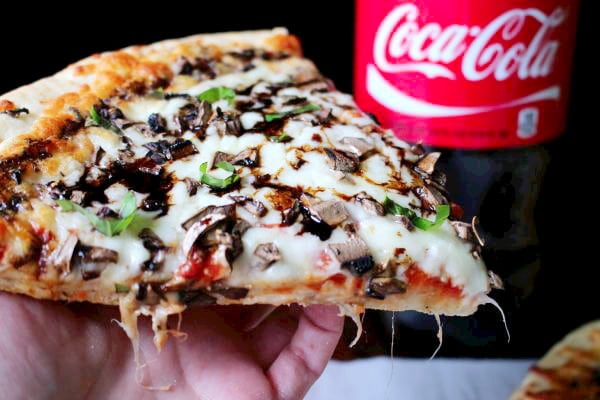 Plus, I'll demonstrate how to add a few toppings- like Portobello mushrooms, fresh basil, and a balsamic reduction- to make this five cheese pizza extra gourmet!
Food Hacks: Make a Store Bought Pizza Gourmet!
Take a store bought pizza and make it gourmet with fresh Portobello mushrooms, basil shreds, and an unbelievably easy balsamic reduction!
Ingredients
1/2

cup

balsamic vinegar

1

Portobello mushroom cap

1 16

" Five Cheese Marketside Pizza from Walmart

About 8 fresh basil leaves
Instructions
Preheat the oven to 375. Put the balsamic vinegar in a small pan and bring to boil. Reduce heat to a very gentle simmer and let simmer, stirring occasionally, while you prep the pizza.

Rinse and pat dry the Portobello mushroom cap. Lay right side up on a cutting board and cut into several thick slices. Lay each slice flat and slice thinly, then sweep all the thin slices into a pile and chop until in small pieces.

%https://recipeforperfection.com/wp-content/uploads/2015/08/Chopped-portobello-mushrooms.jpg

Scatter the small pieces of mushroom evenly over the pizza.

Place the pizza in the preheated oven to bake for 16 minutes, or until the crust is nicely browned. While waiting, check the balsamic reduction. It is done when the sauce coats a spoon with the consistency of warm maple syrup. If it gets too thick or sticky, add water a few drops at a time until it runs freely again.

A few minutes before the pizza is done, prepare the fresh basil.

%https://recipeforperfection.com/wp-content/uploads/2015/08/How-to-cut-basil.jpg

Roll a stack of basil leaves into a tight tube, then slice thinly across the tube to create long shreds of basil.

%https://recipeforperfection.com/wp-content/uploads/2015/08/Shredded-basil-for-pizza.jpg

When the pizza is done, top with the basil shreds and drizzle with balsamic reduction. Slice and serve immediately.

Do you ever use food hacks on meals like this Marketside pizza?