This shop has been compensated by Collective Bias and its advertiser. All opinions are mine alone. #TrickOrSweet #CollectiveBias
Halloween Candy Ideas
I love Halloween. I've never lost the excitement I had when I was a kid, when I anticipated how my treat bag would soon be filled up with all sorts of treats.
In my experience, there are typically two types of children when it comes to candy. Some children prefer sour or fruity candy. Some children prefer chocolate.
I'll give you three guesses as to which type I was… and still am. Stumped?
Chocolate, chocolate, chocolate. Not that there's anything wrong with the other kind of candy, but, well, you know. Chocolate rules.
So now that it's Halloween time again, you can bet I've stocked up on some serious candy. Being a generous soul, I've even bought some of the non-chocolate kind. This year, I did my candy shopping at Walmart. They have quite an assortment of candy bags, and I selected two of the larger varieties.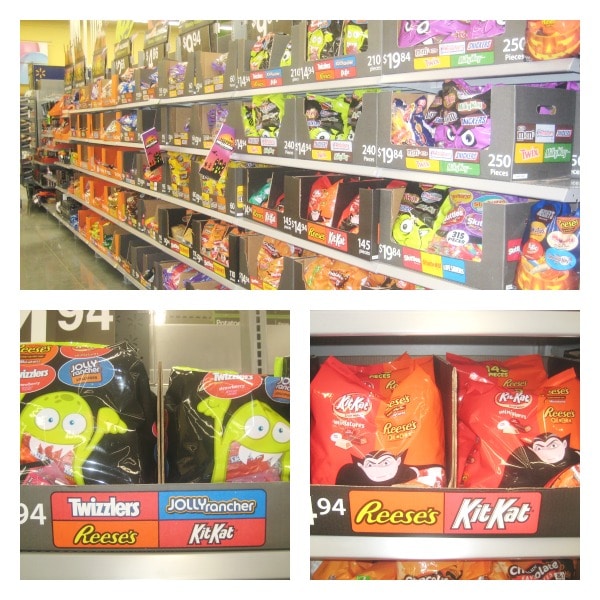 You can find these large candy bags on the special Halloween aisle. There was a vampire on one bag, and a green monster on the other. They're quite easy to spot, and these big bags of candy are great for parties or when you expect to have a lot of trick-or-treaters.
Once you have your candy, it's time to start working on some fun Halloween candy ideas.
Who am I kidding? That's not work at all! And of all the Halloween candy ideas, this one is the easiest. I've expanded on a idea from a good friend and family member who taught me and my kids to sort the candies into a Halloween "lumberyard." I've gone one step further, and actually used the candy to build something; in this case, miniature candy castles.
How to Make a Halloween Candy Castle
What You Need
At least 20 pieces of candy per person
Some chocolate hazelnut spread as "mortar" for your castle if needed.
What to Do
Unwrap your candies.
Stack some candies (with a little chocolate hazelnut spread as needed to keep them from toppling) in any creative combination to make a structure.
Use more candies to decorate the outside of the castle.
Eat the castle!
Simple, right? Break out this activity at your Halloween party, and your guests (the tall and the small) will thank you. Happy Halloween!
What are your Halloween candy ideas?