Thank you to Gaylord Palms Resort and Convention Center for providing the opportunity to experience MOOR.  All opinions are my own.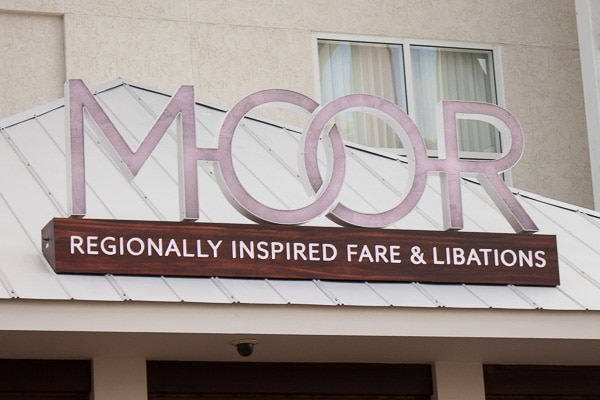 MOOR at Gaylord Palms: Our Thanksgiving Brunch
If you've never been to Gaylord Palms Resort and Convention Center before, you owe it yourself to check it out between Thanksgiving and Christmas.  There are few places on Earth that manage to enter into the holiday spirit so completely.  From the visual spectacle of ICE!, to the cheerily decorated atriums, you are guaranteed to be charmed.
We were lucky to get to spend our Thanksgiving visiting one of signature restaurants at Gaylord Palms, MOOR.  With its "regionally inspired fare and libations" and its commitment to being "Mindful Of Our Resources," MOOR has intrigued me since I first heard about it.
Located in the Key West wing of the resort, and situated on a large, stationary sailboat "floating" in a crystal clear lagoon filled with fish, MOOR's nautical appeal is upfront and charming without veering into theme restaurant territory.  There are dining areas on the deck of the boat, and also within a connected dining area that adjoins the full bar.  I absolutely loved dining on the deck  with a clear view of the water.
On our Thanksgiving visit, MOOR featured an unlimited a la carte menu, meaning that you could select an unlimited amount of different dishes from a menu, and each dish would be brought to you from the kitchen.  In addition, there were four different stations situated in or near the dining room for additional goodies, including a Bacon Bar, Bloody Mary Bar, Local Turkey Carving Station, and a dessert display.  Champagne, mimosas, and of course Bloody Marys were available, as well as the usual soda, tea, and coffee.
First up was a carving board piled high with cinnamon rolls topped with a sweet glaze and bacon bits.  These were practically addictive, and I'm not ashamed to admit that I asked for a couple to take home at the end of the meal.
We continued with an assortment of small plates, including a Country Ham and Cheddar Quiche and a Spinach and Cypress Pointe Feta Quiche.  Uniquely, each quiche was baked in its own self-contained triangular crust, making them resemble a large hors d'oeuvre.
We also sampled the House-Made Granola and Yogurt, which came in a Mason jar with a layer of fruit, plain yogurt, and a crunchy granola topping.  You can see my brunch mimosa in the background.
A trip to the Local Turkey Carving Station was rewarded with the quintessential Thanksgiving entree of turkey, housemade cranberry sauce and gravy, and jalapeno cornbread stuffing, plus a slice of brown sugar bacon from the Bacon Bar.  The stuffing was marvelously Southern, reflecting the truly robust texture of authentic cornbread as made by my mother and her mother before her.  As we would see in many of the dishes on offer, a solid appreciation of Southern cuisine is one of MOOR's strengths.
My husband visited the Bloody MOOR bar to craft a cocktail from the housemade pickles, hot sauces, infused vodkas, fresh herbs, and jumbo shrimp.  It was truly a magnificent beverage.
After enjoying our plates from the carving station, we selected two plates from the chilled seafood section of the a la carte menu: Gulf Shrimp with green tomato chow chow, and Cedar Key Oysters on the Half Shell.
Next on the parade of dishes was Shrimp & Grits, which is also on the regular a la carte menu.  Shrimp & Grits is made with Gulf shrimp, Anson Mills grits, and andouille brown butter.  Having grown up with grits for breakfast and dinner, I appreciated the creamy texture and savory taste of these high quality grits.
We also shared a plate of Chicken and Dumplings, made with Lake Meadows chicken and house-made ricotta dumplings.  Again, we saw how MOOR demonstrated a firm foundation in comfort food classics while also elevating those classics with top notch ingredients.
A Crab Cake Benedict arrived next, showcasing a crispy ball of crab cake and a perfectly poached egg generously doused with spicy cajun hollandaise.  I promptly pierced the egg with my fork and was rewarded with a gentle gush of warm yolk in which to dip the crab cake.
Although I was rapidly reaching a point of fullness, I sampled one more item.  For my last course before dessert, I selected Chicken and Waffles, which included fried buttermilk chicken, a cheddar waffle, and cayenne maple syrup.  This was my favorite dish of the meal.  Every flavor went together perfectly, and if I'd have had room, I'd have ordered seconds.
Having reluctantly relinquished the prospect of additional savory plates, I took a trip to the dessert bar.  The desserts were prepared in individual mason jars and displayed in rustic wooden crates.  I selected one of each (of course) and brought them back to the table to share.
The Sweet Potato Cheesecake was the overall winner, but the Pecan Pie, Key Lime Pie, and Apple Cranberry Cobbler were all close seconds.  I particularly loved the toasted meringue topping on the Sweet Potato Cheesecake and the Key Lime Pie.  Needless to say, each jar was completely clean by the time we finished.
At the end of the meal, our server brought out a takeaway bag of miniature apple turnovers with a handwritten thank-you note attached, and an invitation to come back for Christmas.  It was such a thoughtful gesture, and later that night, I thoroughly enjoyed those turnovers alongside a cup of milk.
Overall, we had a wonderful time.  The setting was beautiful, the flavors intriguing yet comforting, and every member of the staff was welcoming and helpful.  Special thanks to our wonderful server, Coraier, for keeping everything running smoothly.
Be sure to check out MOOR the next time you're in the Orlando area or visiting the Gaylord Palms Resort and Convention Center.  Both valet and self parking are validated at the restaurant, so don't forget to show your parking ticket to your server or host before you leave.
How was your Thanksgiving?
Do you ever dine out for holiday meals?