I was the guest of Urban Tide to try out their Magical Dining Month menu in additional to their regular menu items.  No other compensation was received.
Urban Tide: A Great Orlando Seafood Restaurant
There is a thrill to seeking out and trying restaurants that are new to you.  No matter how many reviews you read, or photos you peruse, you don't know exactly what it will be like until you're sitting at a table with a plate of food in front of you.  The anticipation alone can whet your appetite.
Earlier this year, I got to sample a dish made by Chef Jared Gross of Urban Tide at a media preview for the annual Chef's Gala to support the Heart of Florida United Way.  It made me wonder what a full meal at Urban Tide would be like.  I had only the flavor clues from a small plate of rock shrimp escabeche to go on, but I was intrigued.
When a representative of the restaurant invited me to come and try Urban Tide, I jumped at the chance.  (Since then, I've also shared a Seared Grouper Cheeks recipe from Urban Tide, so be sure to check that out as well.)
The Location: Hyatt Regency Orlando
Formerly the Peabody Hotel, the freshly updated Hyatt Regency reflects a modern style.  Large, glittering chandeliers light up sleek waterfalls and elegant fountains, while displays of modern art can be found around almost every corner.
At the pool, you'll find a more naturalistic design that contrasts pleasantly with the straight edges of the hotel exterior.  The pool meanders in curves around bridges and palm trees, leading up to a prominent rockwork waterfall that cascades in a soothing rush of sound and water.  Urban Tide is located directly adjacent to the pool area.
The Food at Urban Tide
Our meal started off with a special drink sent out by the chef.  Garnished with frozen fruit cut into shapes, such as watermelon stars, this refreshing combination of watermelon, citrus, and rosemary was a great way to begin the meal.
My appetizer (from the Magical Dining Month menu) was Maine lobster risotto with tarragon mascarpone and grilled shrimp butter.  It was creamy, as risotto should be, and just slightly cheesy in the best possible way.  The generously sized pieces of lobster were beautifully arranged on top.
My husband's salad qualifies as one of the not-to-be-missed items on the menu.  As our server explained, if it's called a "Festival" of tomatoes, it has to be good, right?  And it was.  The Festival of Tomatoes, made with baby heirloom tomatoes, Champagne emulsion, balsamic vinegar, and topped with Thai basil sorbet, had such a unique combination of flavors that I couldn't stop thinking about it for days after the meal.
After the first courses, our entrees arrived.  I chose the cioppino and my husband had selected the Loch Duart salmon (pictured at top).  The cioppino, an second course choice on the Magical Dining Menu, is a signature dish at Urban Tide.  This slightly spicy seafood stew included calamari, grouper, mussels, and rock shrimp in a tomato saffron broth, topped off with paprika rouille.  The Loch Duart salmon came with two house made sauces, but the piece of fish itself was of such high quality that it hardly needed the addition of sauce.  Our server told us about how the salmon was called "Loch Duart" salmon because it came directly from a loch of the same name in Scotland.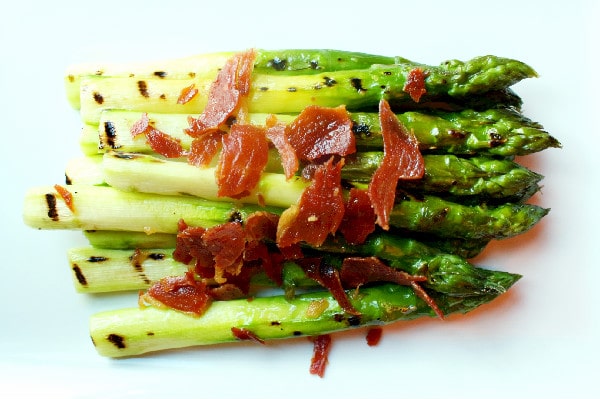 We also tried the grilled asparagus with serrano ham, which (like all their side dishes) was sized for sharing.  The crisp asparagus tasted slightly smoky from the grill and was a good accompaniment to the salmon.
The surprise standout of the evening was the humbly titled "Farm to Table Seasonal Vegetables."  I am not always very fond of vegetables, but this plate of veggies could have made me a happy vegetarian.  Although the seafood was marvelous, for the second time in the meal I found a plate of vegetables to be a true revelation.
Between the savory and the final sweet course, Chef Benny Ramos sent out a refreshing trio of fruit sorbets: coconut with cinnamon and sea salt, strawberry, and mango.  The sorbets were garnished with more frozen fruit shapes, just like the spectacularly garnished fruit drink.  For me, the coconut sorbet ranked as the dish I'm most likely to try to duplicate at home.  The sea salt and cinnamon were a perfect touch.
Our final course was the vanilla chocolate bourbon bar from the Magical Dining Month menu.  I tend to be picky about desserts, especially chocolate ones, but this one won me over instantly.  The Maracaibo chocolate used was very high quality and had a rich, complex flavor profile.  Each layer both harmonized with and accented the layers around it.  The bourbon ice cream was light, refreshing, and had the perfect amount of bourbon flavor.  This dessert just might be the dish that pulls me back to Urban Tide before Magical Dining Month is over.
The People of Urban Tide
Our server Allen was a gracious guide through the many courses.  He waxed enthusiastic in a most charming way, sharing his own love for particular dishes and giving us more information about the provenance of the ingredients.  He also made a great wine suggestion, recommending a Stag's Leap Chardonnay that I found absolutely delicious.
After the meal, we got to chat with Chef Benny Ramos, the sous chef of Urban Tide.  Chef Benny, too, was enthusiastic about the food and eager to find out if we'd enjoyed his special fruit drink and the trio of fruit sorbets.  We chatted a little bit about the history of the restaurant and its previous incarnation as Napa, which specialized in Californian cuisine and wine.  (In fact, the current wine list is still primarily Californian, but the wine list from the hotel's other fine dining establishment, Fiorenzo's, is also readily available.)
Getting to talk to some of the Urban Tide staff was eye-opening, and actually made me root for the restaurant even more than I would have just on the basis of the excellent food.  You can't help but love a place where everyone you speak to has such deep respect and affection for high-quality ingredients and beautiful food.
Magical Dining Month lasts only through the end of September, so I highly recommend that you take full advantage of the value of the outstanding menu items on offer and get yourself over to Urban Tide.  Don't forget to check out their recipe for seared grouper cheeks, too!
Parking is available in a garage adjacent to the pool area, and you can get your parking garage ticket validated at the restaurant.