I received samples of some of these items.  Opinions are mine alone, and no other compensation was received.

12 Fantastic Honey Gift Ideas
I am a huge fan of honey.  I'm always on the hunt for new varietals to try or a fresh source of local honey.  On several occasions, I've asked for honey as a birthday or Christmas gift because I just can't get enough of the stuff.
If you or someone you love is a honey fanatic, you're going to want to bookmark this list of fantastic honey gift ideas for the next holiday!
Most Unique Honey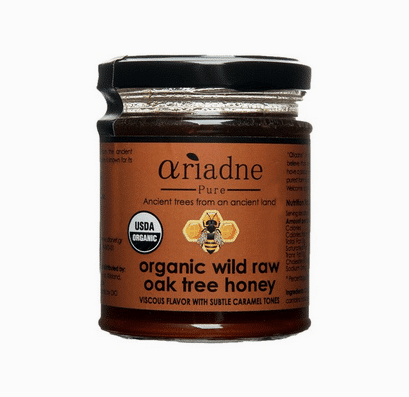 Ariadne Pure Organic Raw Oak Tree Honey from Greece is my new favorite find.  It's one of the thickest honeys I've ever tasted, with robust notes of wood, leather, caramel, and a lingering raisin finish.  A rare varietal for the true gourmet.
Most Adorable Honey Pot 
This honey pot is the perfect vessel for stylish honey serving.  The elegant ombre coloring and bee design makes it stand out.
Quintessential Lavender Honey 
From the purple lavender fields of Spain comes this aromatic lavender honey.  Smooth and redolent with a rich, floral aroma, you'll find this honey ideal for drizzling over grilled peaches… or licking right off the spoon!
Fragrant Honey Soap
This incredibly fragrant Oatmeal, Milk, and Honey Soap by High Street Soaps will become your new bathing indulgence.  Made with local raw honey, this is an excellent choice for those with sensitive skin.
Flavor Infused Honeys
TheraBee Infused Culinary Honey come in variety of flavors, from Cinnamon Vanilla to savory Thai Chile.  There are so many ways to get creative with using flavor infused honeys- use them for your tea, on your ice cream, or to baste a roast!  Plus, TheraBee uses only 100% natural ingredients to flavor its raw honey.
Honey Shampoo and Conditioner
To enjoy the benefits and aroma of honey in your hair, try Beessentials Sulfate Free Shampoo and Conditioner.  This is my new favorite shampoo and conditioner set!  I've never had such soft hair.
Seasonal Honey
Did you know that honey from a particular place will taste different depending on what time of year it was harvested?  That's because different flowers are in bloom at different times of the year.  This Autumn Harvest Honey is collected on the Beekman 1802 farm after a season of golden rod and purple aster in bloom.
Skin Care Products made with Manuka Honey
The unique Manuka Secrets line of skin care is made with honey derived from the flowers of the New Zealand Manuka tree.  I loved how soft my skin felt after using these products.  They were very luxurious and worked well for me.
Best Book about Honey
This book is a must have for any honey lover.  It's the comprehensive guide to buying and tasting honey, with individual chapters on specific varieties of honey.
Handiest Honey Gadget
The Flip-It! Cap System helps you get at those last precious drops of honey in your honey bottle.  Just attach the matching size cap and invert your bottle to store it upside down!
Best Honey Gift for Mixologists
Hornitos Spiced Honey Tequila has an intriguing combination of sweet and spicy flavors, including notes of floral honey, vanilla, and a lingering spice finish.  Try a Honey Tea Cooler: 2 parts Hornitos® Spiced Honey, ½ part lemon juice, ½ part agave, 4 parts black tea, and one lemon wheel.  Combine all ingredients in a shaker with ice, shake vigorously, strain over fresh ice, and garnish with a lemon wheel.
What's your favorite honey gift idea?
Featured photo credit: mamat123 on freeimages.com.  All other photos are copyright of their respective holders.