This post contains affiliate links for Amazon shopping.  When you shop through them, a small commission supports this site at no cost to you.  Thanks!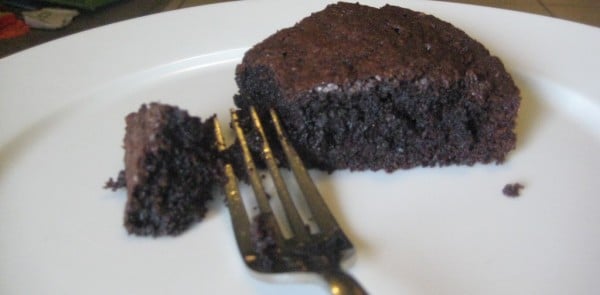 Chocolate Brownie Cake
Soft and cakelike on the inside, yet with a delightfully chewy crust on top, this chocolate brownie cake is excellent for those who like a cakey brownie recipe.  It's great served a little warm with vanilla ice cream or whipped cream.
Not only is this the very first recipe I've published on my blog, but this is also the first brownie recipe I ever baked from scratch.  It came from Betty Crocker's Cooking Basics: Learning to Cook with Confidence
, which is also where I learned to make hard cooked eggs and oven baked chicken breasts many years ago!
If you'd like to make this chocolate brownie cake a bit fancy, let the it cool completely, then flip it upside down so that the smooth side is facing up.  Lay a doily or some other kind of pattern over the brownie cake, then put some powdered sugar into a mesh strainer and tap it gently over the design.  Carefully lift away the doily.  Voila!  A lovely decoration for your brownie cake!
If cakey isn't your style (or your mood), try these velvety, fudgy Ultimate Deep Dish Brownies!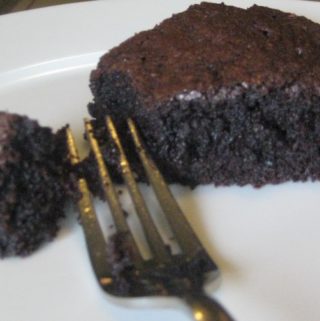 Chocolate Brownie Cake
Classic cake brownies with a soft interior and a slightly chewy crust.
Ingredients
1 1/2

cups

sugar

3/4

cup

all-purpose flour

3/4

cup

butter

1 1/2 sticks, melted

1/2

cup

unsweetened cocoa

1 1/2

teaspoons

vanilla extract

1/4

teaspoon

salt

3

eggs
Instructions
Preheat the oven to 350. Prepare a pan by lining it with parchment or foil.

Mix sugar, flour, butter, cocoa, vanilla, salt, and eggs in a medium bowl with spoon or whisk. Pour into pan and smooth out the top.

Bake 30 to 40 minutes or until a toothpick inserted in the middle comes out clean.

Cool cake 10 minutes, then remove from pan and place on a wire cooling rack. Or you can leave the cake in the pan.