This easy homemade granola recipe is a delicious combination of oats, honey, maple syrup, cinnamon, and pecans. It's the perfect healthy breakfast!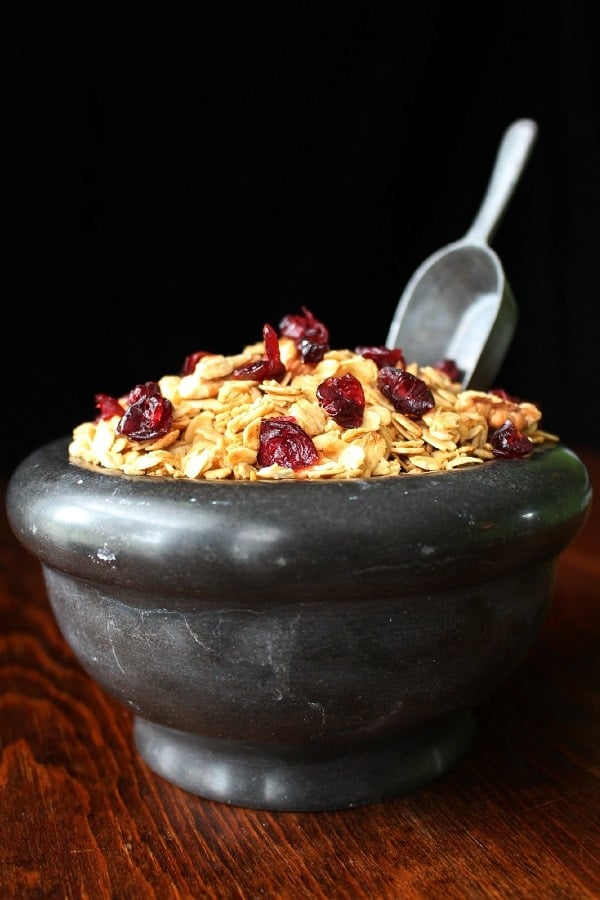 Homemade Granola with Pecans
I really wanted to make my own homemade granola, because I figured that not only would it be less expensive than store-bought, it would taste better and be better for me.
It turns out that both of those theories were entirely true.  This homemade granola is delicious and it's healthy, something that you don't always see in combination.  With a touch of sweetness from maple syrup and honey, the warmth of real cinnamon, and the crunch of toasted pecans, you'll look forward to your first bowl of the day.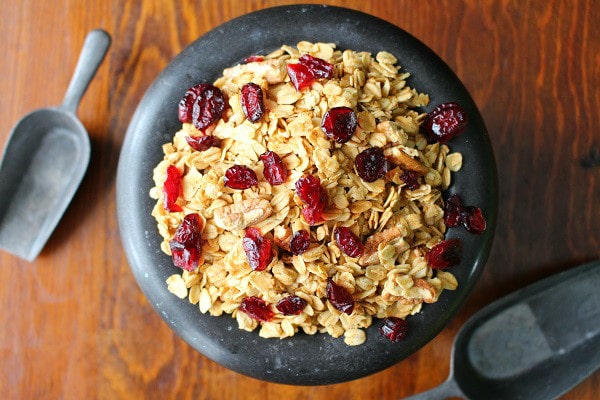 After making this homemade granola with pecans, I practically kicked myself and said, "Why have I never made homemade granola before?  It's so easy!"
I promise that you will say the same thing, although I encourage you to avoid actually kicking yourself.  You don't want anything to take away from your enjoyment of this stuff.
Tips for Making Homemade Granola
1. Why I Store the Dried Fruit Separately
Many homemade granola recipes have you mix in dried fruit with the finished and cooled granola.  I actually chose to store my granola on its own, and simply sprinkle cranberries (or whatever) in the bowl when I was ready to eat.  Why?  Because the fruit will dry out just a bit more if you store it in the granola.
However, it's not a huge difference, so feel free to mix it right in if that's what you prefer.  Either way, store your granola airtight for maximum freshness.
2. How to Make Substitutions in the Granola
You'll notice that the recipe contains 4 cups of oatmeal and 1 cup of pecans.  That means you can easily substitute other ingredients so long as you keep the total volume at 5 cups.  For example, you could swap out a cup of oatmeal for a cup of coconut.  Or switch the 1 cup of pecans to 1 cup of walnuts.
You can also change the sweetener.  The recipe calls for 1/4 cup of maple syrup and 2 tablespoons of honey.  You can reverse it to 1/4 cup of honey and 2 tablespoons of maple syrup, or simply use 1/4 cup plus 2 tablespoons of just honey (or just maple syrup).  It's very flexible.
If you have other questions about substitutions, feel free to ask me in the comments.  Happy breakfasting!  (And lunching, and midnight snacking, and… you get the idea.)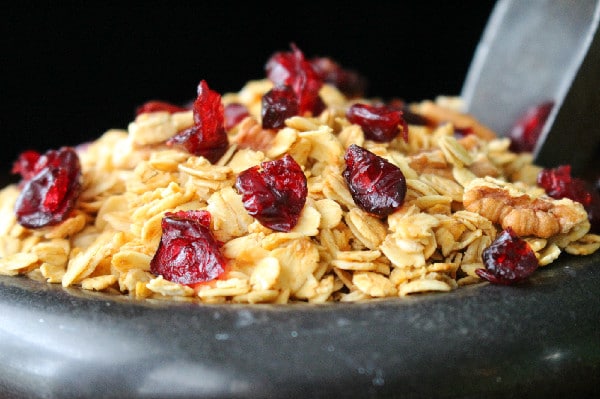 If You Like This Recipe, Try These
If you like this granola, you might also like these delicious oatmeal breakfast cookies, or maybe you can try topping your toast or bagel with my fresh strawberry cream cheese!  I'm also partial to pancakes from scratch.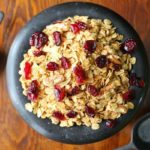 Homemade Granola with Pecans
This easy homemade granola recipe is a delicious combination of oats, honey, maple syrup, cinnamon, and pecans. It's the perfect healthy breakfast!
Ingredients
1/3

cup

canola oil

or your preferred oil

1/4

cup

maple syrup

2

tablespoons

honey

2

tablespoons

water

1

teaspoon

cinnamon

1

pinch

sea salt

4

cups

old fashioned oats

1

cup

pecan halves & pieces
Instructions
Preheat oven to 275 and line two baking sheets with parchment paper.

In a large mixing bowl, combine the oil, maple syrup, honey, water, cinnamon, and salt. Whisk until well combined.

Add in the oats and pecans, then stir until the mixture is evenly coated. Spread evenly onto the parchment lined baking sheets.

Bake for 30 minutes, stir, then bake for another 10 to 15 minutes until golden brown. Remove from oven and let cool completely before storing in an airtight container. Parchment may be reused for future batches of granola.
Recipe Notes
Nutrition facts are approximate.  Please consult a nutritionist if you have specific nutritional needs.
Nutrition Facts
Homemade Granola with Pecans
Amount Per Serving (334 g)
Calories 348
Calories from Fat 139
% Daily Value*
Fat 15.4g24%
Sodium 40mg2%
Potassium 280mg8%
Carbohydrates 44.4g15%
Protein 7.6g15%
Calcium 40mg4%
Iron 2.9mg16%
* Percent Daily Values are based on a 2000 calorie diet.
If you love breakfast cereals like this granola, check out everything you need to know about muesli!