Here in Florida, the summer evenings are warm and breezy.  Sometime after five o'clock, we head outside to enjoy the fresh air on our screened porch, or maybe venture out into the backyard to pick a few kumquats off the tree.
Sometimes we even pick some parsley from our little herb garden as a garnish for dinner.
It's a great time and place for grilling, and we plan to make the most of it all summer long.  Personally, I'm a big fan of spicy food, so I've put together a fiery habanero adobo sauce that you can use for marinating, basting, and dipping all your grillable foods.  This habanero adobo sauce is made flaming and flavorful with the addition of El Yucateco XXX Habanero Hot Sauce (Kutbilik).  El Yucateco makes two other hot sauces in addition to their XXX Habanero Hot Sauce (Kutbilik).  One is El Yucateco Red Habanero Hot Sauce, and the other is El Yucateco Green Habanero Hot Sauce.
I picked mine up at my local grocery store in the Mexican foods section.
Tips for Grilling Vegetables
Don't forget to make the vegetable pieces large enough so that they won't fall through the grate.  (Don't laugh- it happens!)
If you're grilling several kinds of vegetables, chances are that they won't all finish cooking at the same time.  Move cooked vegetables to a warm plate and cover loosely with aluminum foil while you wait for the rest to finish.
If perfect grill marks are your goal, remember to move the vegetables as little as possible.  They must sit in the same position in order for the marks to set.
More Ways to Use Habanero Adobo Sauce
Habanero adobo sauce is a great marinade for meats as well as vegetables.  Try it on steak, chicken, pork, or shrimp.
Adobo sauce can also be mixed with sour cream and garnished with fresh cilantro to make a flavorful dip, or just dip it straight if you love heat!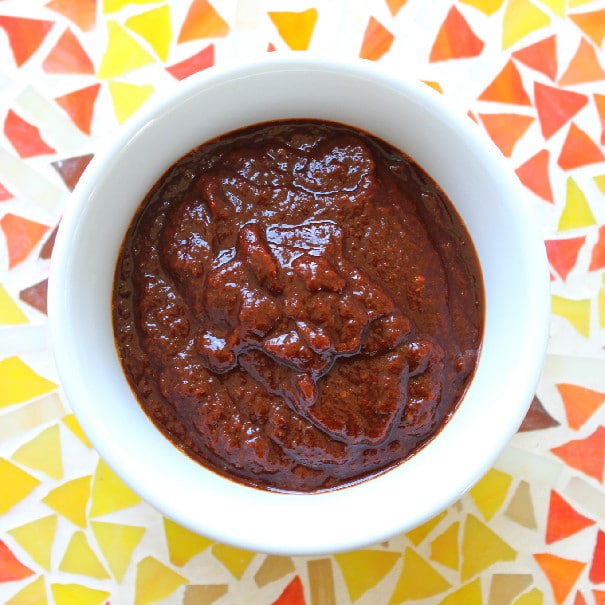 Pair this recipe with Mexican burgers for a complete meal from the grill!
Grilled Vegetables with Homemade Habanero Adobo Sauce Recipe
Make your grilled veggies flavorful and spicy with this homemade habanero adobo sauce. The adobo sauce is versatile and can be used to marinate, baste, or dip vegetables and meats!
Total Time
1
hour
5
minutes
Ingredients
For the Habanero Adobo Sauce
6

dried ancho peppers

2

tablespoons

El Yucateco XXX Habanero Hot Sauce

Kutbilik

1

teaspoon

sea salt

1 1/2

teaspoon

granulated sugar

1/4

tsp

cumin

Dash of cinnamon

1 1/2

cups

of water
For the Grilled Vegetables
Assortment of vegetables

such as peppers, mushrooms, summer squash, etc., cut into large pieces

Habanero Adobo Sauce
Instructions
For the Habanero Adobo Sauce
Cut the peppers in half and remove the seeds and stems. Toast the peppers for about 3 minutes in a skillet on medium-low heat, turning once.

Place in a bowl and cover with water. Let the peppers soak in the water for 30 minutes. Drain the peppers and discard the soaking water. Give each pepper a quick rinse to remove any remaining seeds.

Place the peppers, hot sauce, salt, sugar, cumin, cinnamon, and 1 1/2 cups of water into a blender or food processor. Blend for about 3 minutes or until easily pourable. If the sauce is too thick, add more water 2 tablespoons at a time and blend again.
For the Grilled Vegetables
Toss the vegetables in some habanero adobo sauce until thoroughly coated. Place on the heated grill and cook until fork-tender, usually 8 minutes on each side. Smaller or more delicate vegetables may cook faster, so watch closely.

If you don't have a grill, preheat your oven broiler to high, line a broiler safe baking sheet with foil, and then spritz the foil with oil or cooking spray. Arrange the coated vegetables on the sheet so that they are not touching each other. Broil for about 8 minutes on each side, or until the vegetables are easily pierced with a fork.