Y'all know I love Southern style anything, so I'm thrilled to be working with Blue Plate® Mayonnaise to bring you my recipe for Southern Chicken Salad Sandwiches.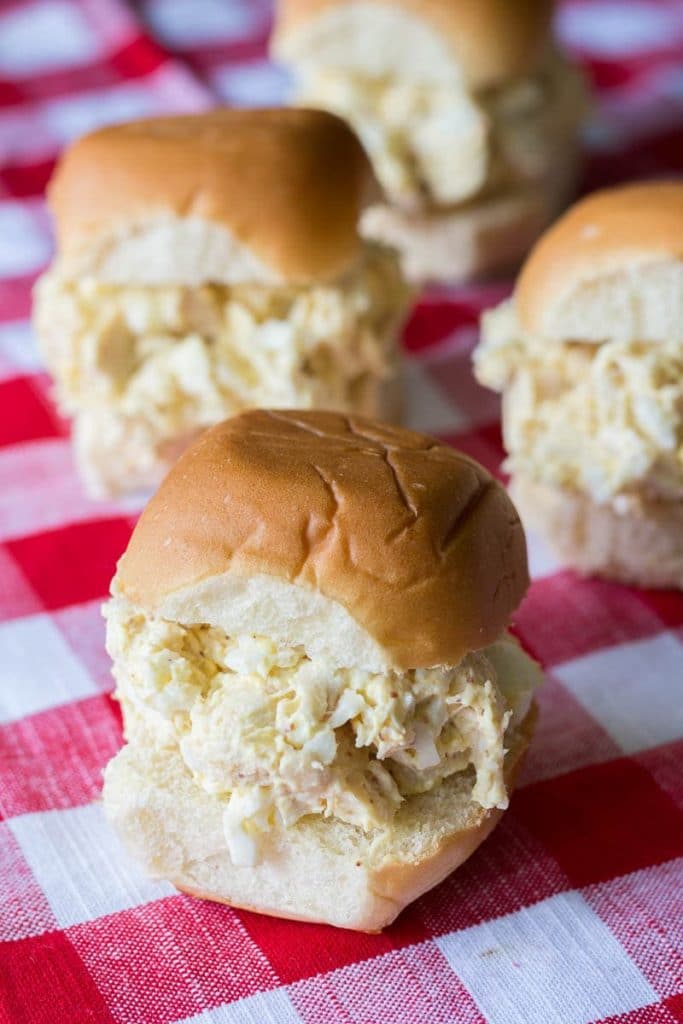 My mom got me started on chicken salad sandwiches early.  I remember opening my lunchbox at school to find thick sandwiches of freshly made chicken salad piled on whole wheat bread.  What a thrill!  It quickly became one of my favorite foods.
Now, some people make chicken salad without eggs.  In my family this is just not done.  The ideal Southern chicken salad should remind you of profoundly of deviled eggs.  Good mustard and mayonnaise are essential, as is the proper method of preparation.
Speaking of good mayo, Blue Plate® Light Mayonnaise with Greek Yogurt is the only mayonnaise out there with Greek yogurt.  Being a huge fan of Greek yogurt for its tangy taste and protein, I was really excited to give this new product a whirl.
With half the fat of regular mayo, but loads of creamy flavor, you'll love how Blue Plate® Light Mayonnaise with Greek Yogurt enhances your favorite foods.  You can use it anywhere you would use regular mayo, like these Southern Chicken Salad sandwiches.
You can also try some innovative new recipes from James Beard award-winning Chef Alon Shaya of Shaya restaurant in New Orleans.
You'll find Chef Shaya's Shrimp Tzatziki, Charred Broccoli Salad, and Spicy Chicken Sandwich on the Blue Plate® Mayonnaise website.
You're sure to find a delicious way to add this flavorful mayonnaise to your table!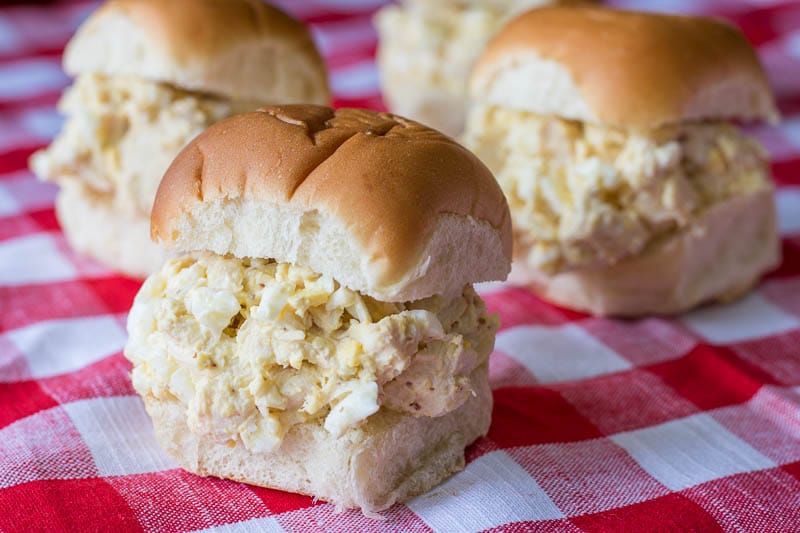 Tips for Making Southern Chicken Salad Sandwiches
Resist the urge to add other "mix-ins" like nuts or fruits.  Southern chicken salad is best when the ingredients are kept to a minimum, allowing the flavor of each element to shine.
Follow the preparation instructions for the eggs.  Yes, mashing the cooked yolks with the mayo and mustard is an extra step, but it's crucial to the final flavor and texture.  Trust me.
I find that the flavor is best the next day, once the chicken salad has had time to chill undisturbed in the fridge.  I don't know why that is, exactly, but it's true.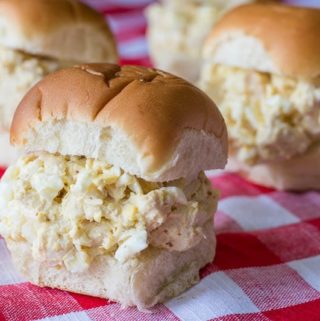 Southern Chicken Salad Sandwiches
Southern Chicken Salad Sandwiches are made with chicken, mayo, coarse ground mustard, and eggs for a rich and satisfying flavor.
Ingredients
3

cups

cooked chicken breast chunks

approximately 2 large cooked chicken breasts cut in chunks

3

large eggs

1/4

cup

mayonnaise

3

teaspoons

coarse ground mustard

or "country style"
Instructions
Place the eggs in a pot and fill with water to cover the eggs. Bring to a boil, uncovered. Cover and remove from heat, then let sit for 18 minutes. Drain and chill.

Peel the eggs and remove the cooked yolks to a plate. Set the whites aside.

Mash the cooked yolks with the mayo and mustard until a smooth, thick paste is formed.

In a large mixing bowl, stir the cooked chicken breast chunks and the yolk/mayo/mustard paste together until chicken is well coated. It should stick together lightly in clumps; if it's too dry, add a bit more mayo until it's moist but not too wet.

Roughly chop the cooked egg whites and stir into the chicken mixture. Scoop chicken salad on sandwich bread or rolls to serve. Cover airtight and refrigerate to store.
Nutrition Facts
Southern Chicken Salad Sandwiches
Amount Per Serving
Calories 318
Calories from Fat 153
% Daily Value*
Total Fat 17g 26%
Cholesterol 217mg 72%
Sodium 256mg 11%
Potassium 314mg 9%
Total Carbohydrates 0g 0%
Protein 37g 74%
* Percent Daily Values are based on a 2000 calorie diet.
Also try my Southern Squash Casserole and pair everything with some Southern Sweet Tea!