Crispy, crunchy tuna cakes made with albacore tuna are perfectly easy and made with just four ingredients! This recipe is great for appetizers or dinner.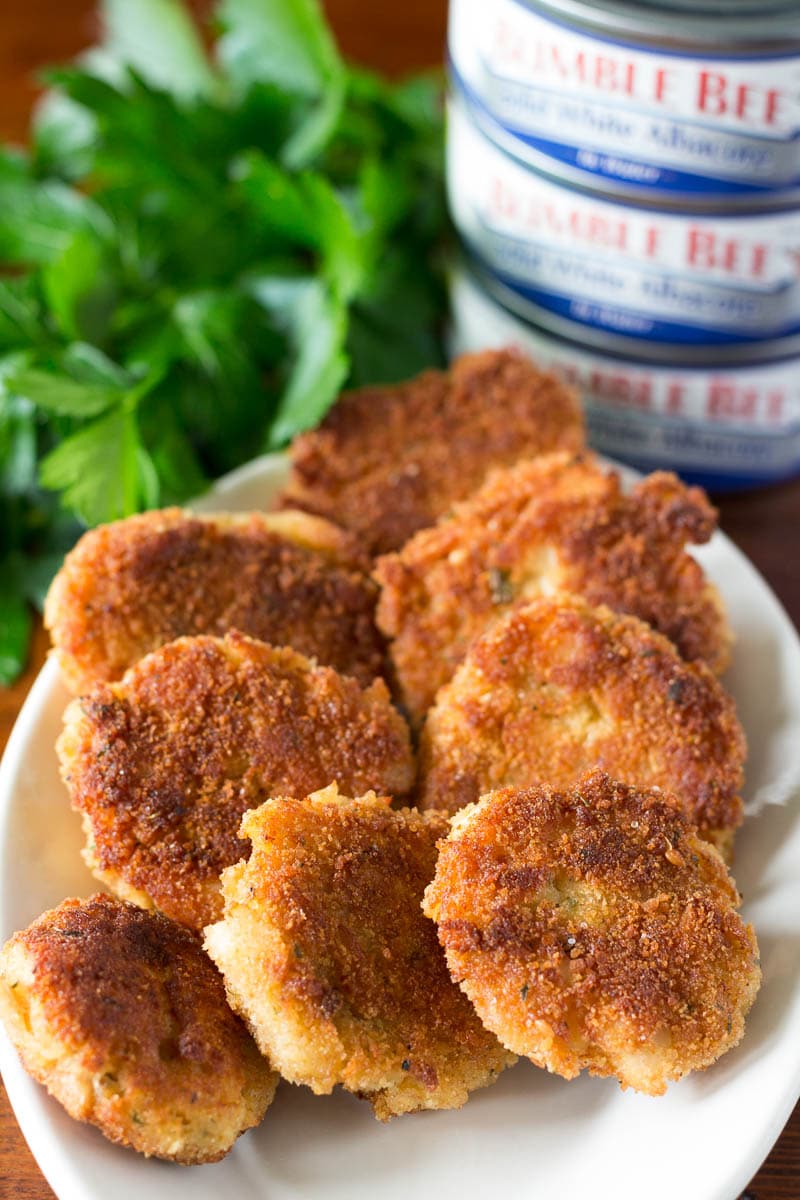 Tuna Cakes Italian Style with Just Four Ingredients
Crispy snacks for dinner parties are always a hit, and these delightful tuna cakes will be no exception. I'm using solid white albacore tuna in today's recipe because the firm texture, light color, and fresh taste is perfect for tuna cakes.
This tuna cake recipe was inspired by my mother-in-law, whose family recipe for tuna cakes (using saltine crackers) has been famous around here for many years.
I've updated this version to use breadcrumbs for extra flavor and an extra egg for firmness. If you like this, you will also like these salmon cakes.
And of course, since I'm always trying to keep my recipes as short and simple as possible, this tuna cake recipe has only four ingredients. You can knock these out in just minutes!
It helps to have a good nonstick pan when you make these. I always buy a nonstick pan that's dishwasher safe, affordable, PFOA free, and has a handle that stays cool.
I have this Ecolution Artistry Non-Stick Pan, so I can vouch for it being an excellent choice that won't break the bank.
There are several ways to serve these tasty tuna cakes. For the grown-ups, I recommend a little alfredo or Mornay sauce for luxurious dipping. For the younger crowd, you can have a bottle of ketchup handy.
They make an excellent first course or bar snack while dinner's cooking, or if you make enough of them, you can serve them as a main course.
It's a great way to get in some lean protein, healthy fat, plus vitamins and minerals.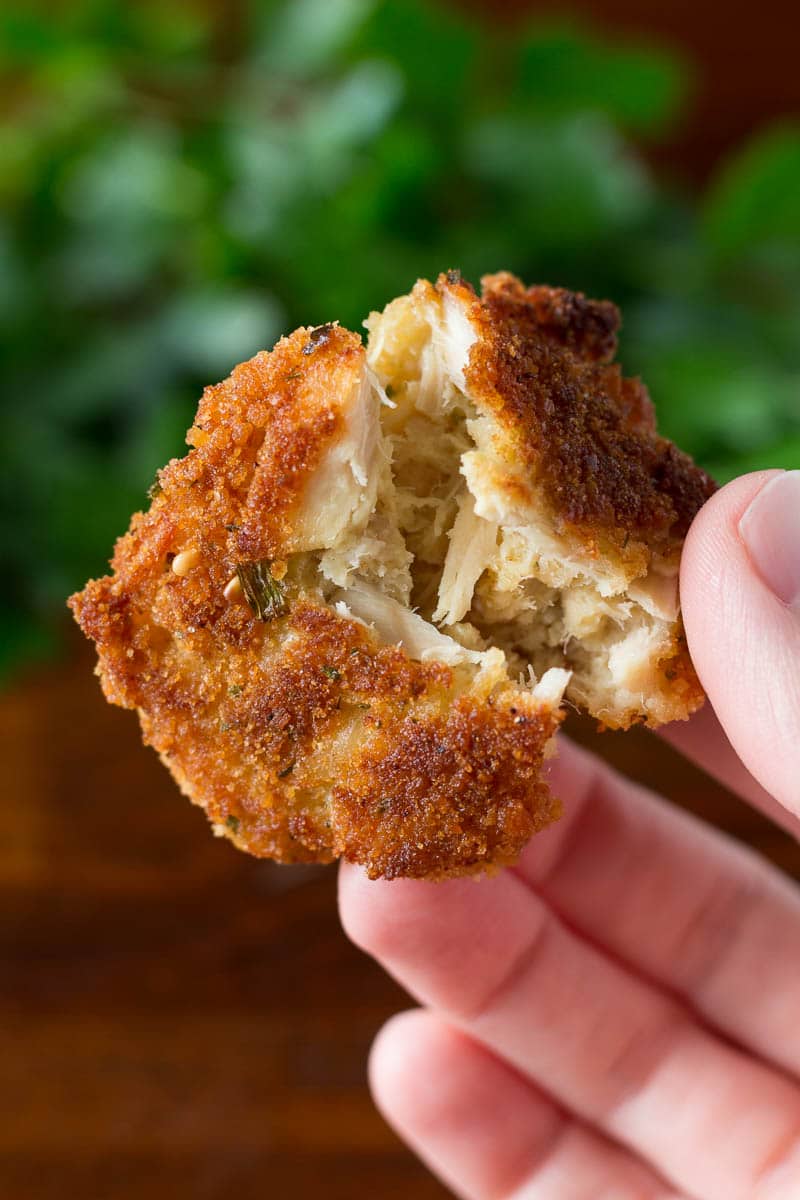 See that firm and flaky tuna texture? That's why solid white albacore works so well in tuna cakes.
Tips for Making the Best Tuna Cakes
If you preheat the oil in the pan, you can cook at a lower temperature and get more even browning.
Because of the seasoned breadcrumbs in this recipe, you don't need to add salt. If you're a pepper lover, feel free to add a few grinds of pepper if desired.
Have your plate lined with paper towels ready before you start cooking. You don't want to have to scramble for it while the tuna cakes are in the pan.
If you have chunk light tuna instead of solid white albacore, it will work—just drain it very thoroughly.
Try remoulade sauce as a dip!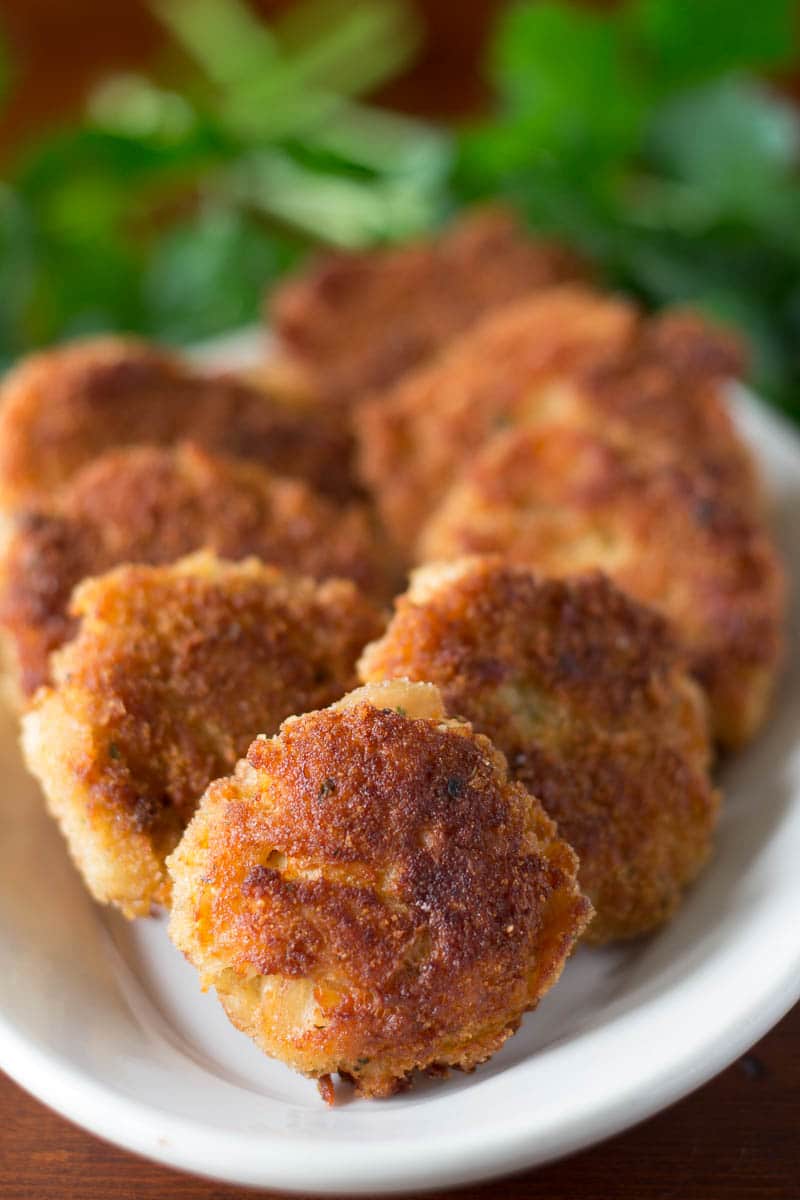 If you like tuna, try this no mayonnaise tuna salad recipe, too.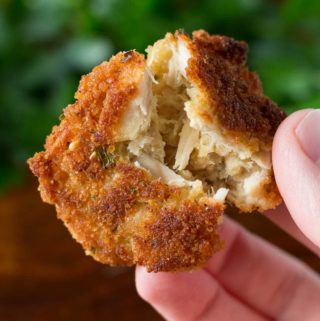 Tuna Cakes with Just Four Ingredients!
Crispy, crunchy tuna cakes made with albacore tuna are perfectly easy and made with just four ingredients! This recipe is great for appetizers or dinner.
Ingredients
1

cup

Italian seasoned breadcrumbs

divided

canola oil

10

ounces

solid white albacore tuna

drained

2

large eggs
Instructions
Place 1/2 cup of breadcrumbs in a shallow bowl and set aside. Line a large platter with some paper towels and set aside.

In a large skillet, pour in enough canola oil to cover the bottom to a depth of 1/4 inch. Preheat the skillet on medium heat while you get the tuna cakes ready to cook.

In a mixing bowl, combine the tuna and the eggs. Stir vigorously until tuna is well coated with eggs and evenly sized. Add the remaining 1/2 cup of breadcrumbs and stir vigorously again until the mixture is well combined and moist.

Scoop a small amount into your hand and gently shape into a patty. Place the patty in the bowl of breadcrumbs, then flip to coat the other side. Slip the patty into the oil. Continue to make patties and place them in the skillet until you run out of space.

Check the first patties you put in the skillet. When they are nicely golden brown, flip them and continue cooking for another minute or two until both sides are evenly colored. Remove from skillet and place on the paper towel-covered platter.

Continue to make tuna cake patties from the mixture until you've used it up. Serve tuna cakes immediately.
Nutrition Facts
Tuna Cakes with Just Four Ingredients!
Amount Per Serving
Calories 107
Calories from Fat 54
% Daily Value*
Fat 6g9%
Cholesterol 31mg10%
Sodium 160mg7%
Potassium 70mg2%
Carbohydrates 3g1%
Protein 8g16%
Vitamin A 65IU1%
Vitamin C 0.2mg0%
Calcium 16mg2%
Iron 0.7mg4%
* Percent Daily Values are based on a 2000 calorie diet.
Get the salmon version of this recipe!