You can cook salmon fillets right out of the freezer without defrosting! This baked salmon recipe is ultra simple and done in under 15 minutes.  This recipe was sponsored by BlogMeetsBrand on behalf of Alaska Seafood and contains affiliate links that support this site.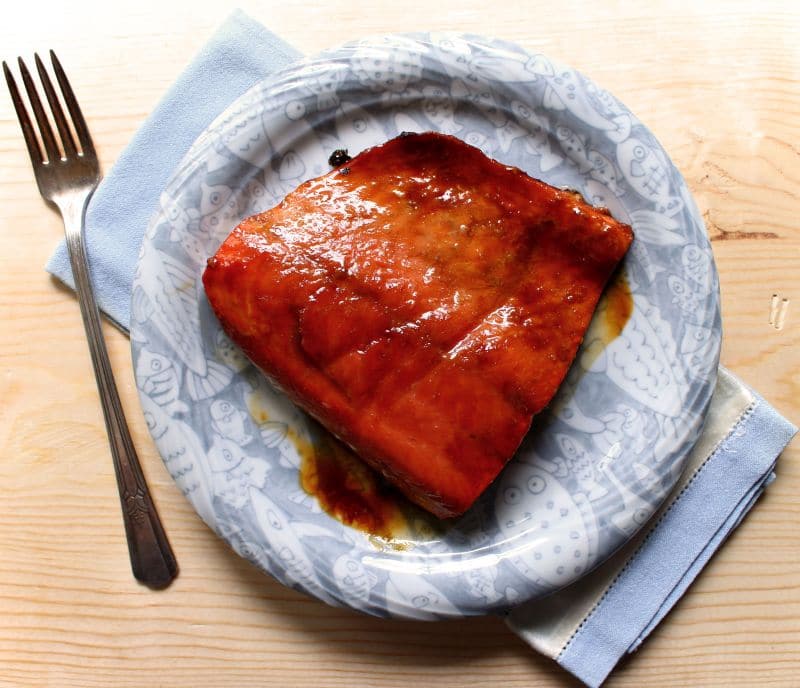 Baked Salmon Recipe
Did you know you could take frozen salmon right out of the freezer and bake it in the oven without defrosting?  I'd always thought that you had to go through some tedious defrosting step, like leaving the fish in the refrigerator overnight, or running the package under cool water for ages.  With this baked salmon recipe, defrosting is entirely unnecessary!
You can get today's salmon dish on the table in no time at all, making it an easy choice for a quick yet special weekday dinner.
I picked up some wild Alaska sockeye salmon at the grocery store for today's meal.  Since it's frozen, it's great to keep on hand for dinner.  I also like how it's one of the best sources for omega-3 fatty acids, and it's high in protein, too.  I was surprised to find out how many kinds of wild Alaska seafood are available year round!  There are five species of salmon, three species of whitefish, and several varieties of shellfish.  (You can learn more at the Wild Alaska Seafood website.)
There are plenty of cooking techniques and helpful how-to videos on the Cook It Frozen section of Wild Alaska Seafood.
Since we're focusing on fast and easy techniques today, I've put together an extremely simple marinade that is suitable to scale up or down depending on how many portions you're preparing.  Sockeye salmon is known for its dark orange hue and assertive flavor, so I've selected the balancing flavors of soy sauce and honey to go with it.
You can use any kind of honey you like.  I'm a real fan of varietal honeys (they're made from one type of flower), so be sure to check them out if you love honey.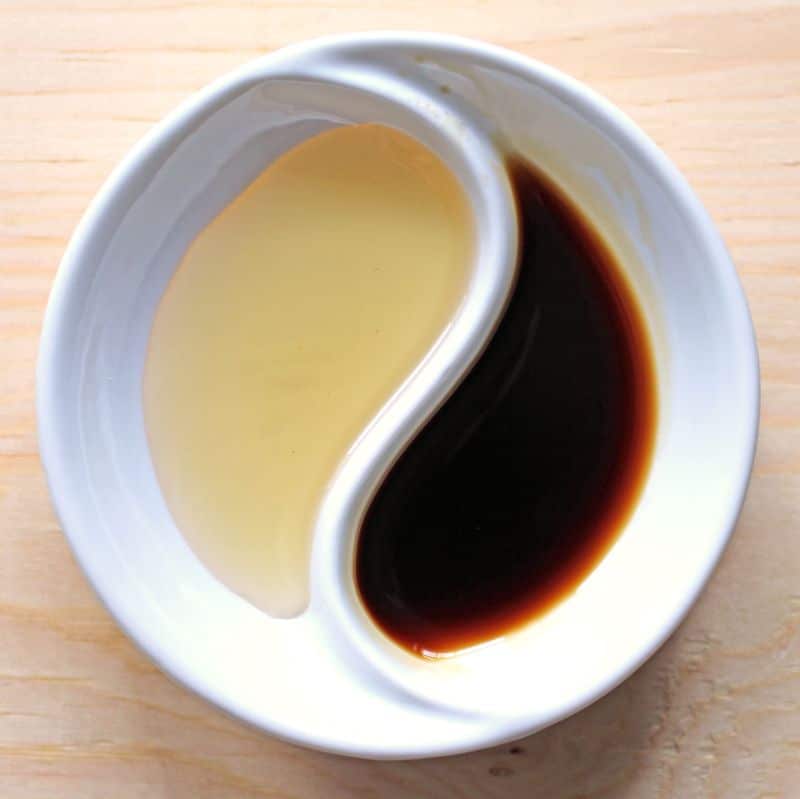 Five Things You May Not Know About Sockeye Salmon
Sockeye salmon is the second most abundant Alaska salmon species.
Sockeye salmon has rich red colored flesh, a firm texture, and rich flavor.
It's available frozen year-round.
It's an excellent source of selenium and phosphorous, and a good source of potassium.
In addition to baking or roasting, sockeye salmon is perfect for grilling, broiling, sautéing, poaching, steaming, and smoking.
Can You Use Any Kind of Salmon for this Recipe?
This recipe works for any type of frozen salmon!  Any frozen, pre-cut salmon fillets of approximately 6 ounces each will work just as well.  If the fillets are slightly larger or smaller, you may need to adjust the cooking time just a little bit- a little longer, or a little shorter.  You can always tell when salmon is done by whether it flakes easily with a fork.
You Might Also Like
If you're looking for some more recipes that are on the healthier side, yet taste absolutely delicious, try these!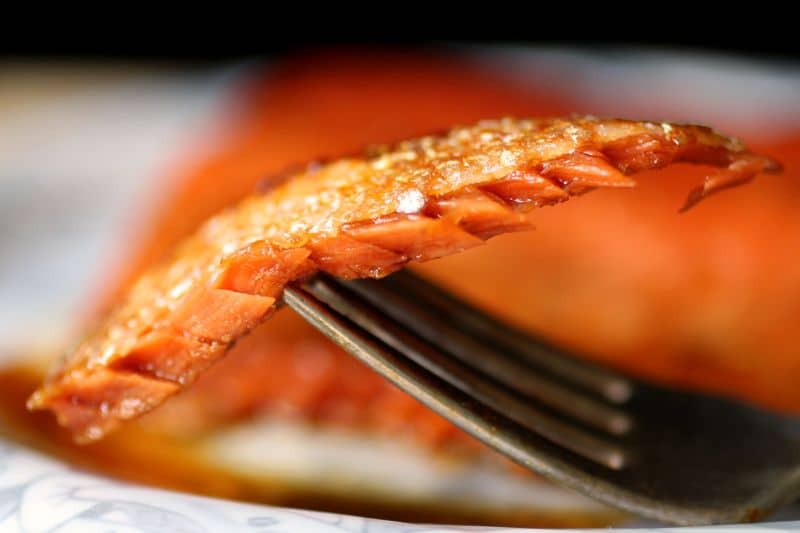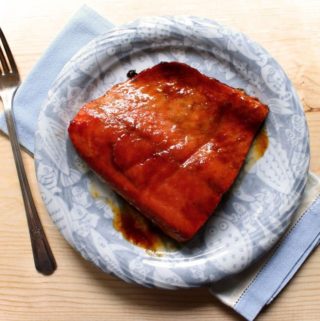 Baked Salmon Recipe
You can cook salmon fillets right out of the freezer without defrosting! This baked salmon recipe is ultra simple and done in under 15 minutes.
Ingredients
4

frozen salmon fillets

Approximately 6 ounces each (24 ounces total)

1/4

cup

reduced sodium soy sauce

Regular soy sauce will also work

1/4

cup

honey

Olive oil or nonstick spray
Instructions
Preheat the oven to 425. Line a baking sheet with foil. Rub on a light coating of olive oil, or spritz lightly with nonstick spray.

To make the marinade, combine the soy sauce and the honey in a bowl, then whisk to combine.

Remove the salmon from its packaging. Rinse briefly to remove the ice glaze, then gently pat dry with paper towels.

Lay the fillets on the baking sheet, skin side down. Coat the top of each fillet with marinade, then place the baking sheet in the oven

Bake for 12 to 14 minutes, or until the flesh in the thickest portion of the fish is opaque.
Nutrition Facts
Baked Salmon Recipe
Amount Per Serving (195 g)
Calories 273
Calories from Fat 95
% Daily Value*
Fat 10.5g16%
Cholesterol 75mg25%
Sodium 429mg19%
Potassium 680mg19%
Carbohydrates 12.4g4%
Protein 33.6g67%
Vitamin A 150IU3%
Calcium 60mg6%
Iron 1.4mg8%
* Percent Daily Values are based on a 2000 calorie diet.
Also try my salmon tacos recipe!