Yes, you should put potatoes in chili! Try this chili with potatoes recipe for a chili that's thick, hearty, flavorful, and very easy to make.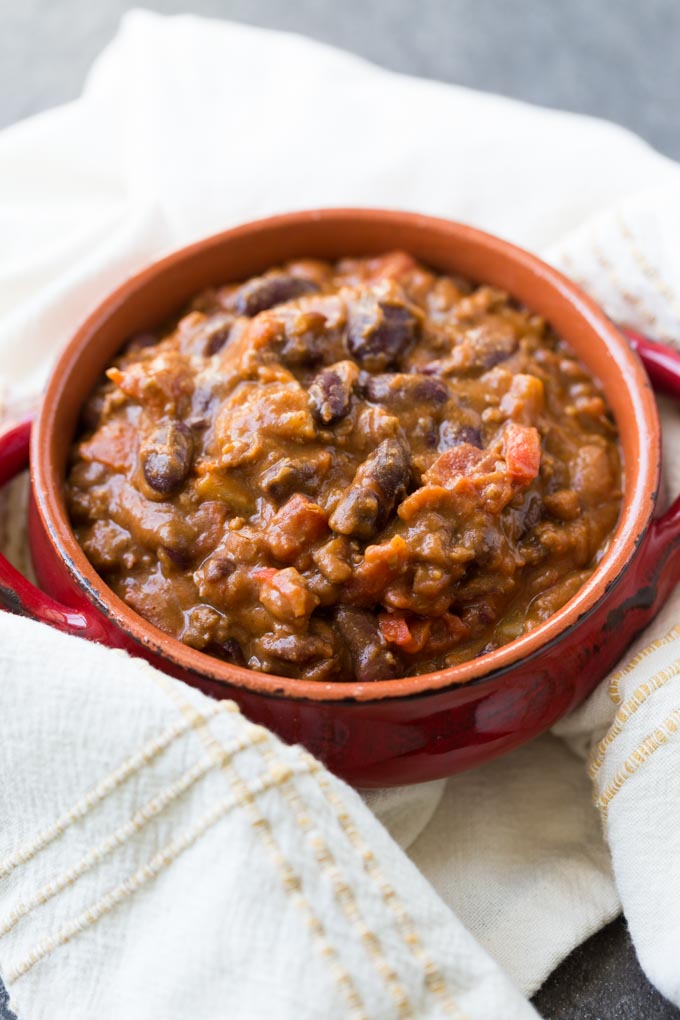 Chili with Potatoes
I'm far from a food purist. It's very hard for me to get carried away with food debates. Should beans be in chili? Should corn be in chili? All I can say is: it depends! Am I in the mood for beans or corn in my chili?
Well, then.
Which leads me to today's recipe. With (gasp!) potatoes.
You heard me.
I was puttering around the kitchen, attempting to assemble a motley crew of leftover this and that into a respectable meal, when I found some cans of beans, a can of tomatoes, and a lone potato. So I used my kitchen know-how to assemble a chili with potatoes.
As my devil-may-care attitude might suggest, this recipe is very flexible. I have changed it up in many ways depending on what I have on hand. You can, too.
Why Potatoes are Great
Potatoes have a natural thickening effect, so if you like chili that's nice and thick, you're going to love this chili.
It also gets even better as it cools down, as do most chilis, so don't be afraid to take the pot off the heat and let it come down in temperature and thicken up. For the same reason, leftovers are fantastic!
How to Change the Chili Heat Level
You can change the heat level of the chili beans as desired. I prefer my chili beans in mild sauce, but you can step up to medium if you prefer. Or, add hot sauce (or even spicy salsa) to the chili.
Making Substitutions in Chili
You can use different chili beans instead of pinto and kidney beans. Swap one can out for black beans or great northern beans.
Add more vegetables by stirring in extra peppers or some sauteed onions (unlike peppers, onions need to be cooked first before adding), or swap one type of pepper for another—just watch out for the spicier peppers!
How to Top and Serve Chili
Top your chili bowl with shredded cheddar and a dollop of sour cream. Add chopped chives if you're feeling fancy. Add hot sauce for an extra kick. Try serving the chili with some good cornbread—regular or gluten free—and you'll have yourself a complete meal.
Or, blow your mind by serving the chili over baked potatoes. Then load it up with the usual chili toppings plus crumbled cooked bacon. You can thank me later.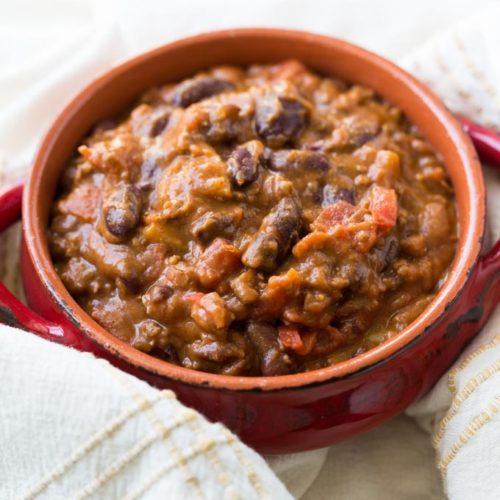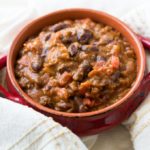 Chili with Potatoes
Yes, you should put potatoes in chili! Try this chili with potatoes recipe for a chili that's thick, hearty, flavorful, and very easy to make.
Ingredients
15

ounces

canned pinto beans in mild chili sauce

15

ounces

canned kidney beans in mild chili sauce

15

ounces

canned diced peeled tomatoes

1

tablespoon

chili powder

1

teaspoon

granulated sugar

1/8

teaspoon

ground black pepper

1/8

teaspoon

dried oregano

1

cup

cooked ground beef crumbles

1

medium russet potato

1

red bell pepper
Instructions
Add the beans, tomatoes, chili powder, sugar, pepper, oregano, and cooked ground beef to a large pot. Stir, then bring to a gentle boil over medium heat.

Dice the potato (you can peel it first if you want to, but it's perfectly fine to leave the skin on). Remove the stem and seeds from the bell pepper, then slice into thin slices. Add the diced potato and sliced bell pepper to the pot.

Stir, cover, and reduce heat to low. Simmer for 20 minutes, then remove the lid, stir, and simmer for 10 minutes more. The chili is done when the potatoes are soft and the bell pepper slices are tender. Let cool slightly before serving.
Nutrition Facts
Chili with Potatoes
Amount Per Serving
Calories 219
Calories from Fat 27
% Daily Value*
Fat 3g5%
Cholesterol 23mg8%
Sodium 522mg23%
Potassium 860mg25%
Carbohydrates 33g11%
Protein 17g34%
Vitamin A 1099IU22%
Vitamin C 40mg48%
Calcium 88mg9%
Iron 4mg22%
* Percent Daily Values are based on a 2000 calorie diet.