This Juice Zing post was sponsored by Noble Juice.  All opinions are my own.
The new Juice Zing line of premium juices from Noble Juice enhances fresh-tasting, naturally pure juice with real green coffee extract for an energy boost.
Boost Your Energy with Juice Zing by Noble Juice
Longtime readers will already know of my love for coffee, both for its taste and for its energizing properties.  Sometimes, it seems like I just can't get through the day without a little boost of energy!
Luckily, my favorite juice company, Noble Juice, has a new line of refreshing juices that include all natural green coffee extract.  Juice Zing uses the same high-quality juices as the other Noble Juice products, only with a little extra "zing" to keep you going.
Juice Zing comes in four flavors.
All Natural Caffeinated Tangerine Juice
All Natural Caffeinated Lemonade
All Natural Caffeinated Apple Juice
All Natural Caffeinated Fruit Punch
Each bottle contains 120 mg of caffeine, approximately equivalent to one and a half cups of coffee—enough caffeine to perk you up without making you bounce off the walls.
These juices contain absolutely no added vitamins, minerals, flavors or flavor packets, artificial colors, or preservatives.  They're gluten-free, non-GMO, vegan, and allergen-free, too.
I'm a sucker for lemonade, so I like to reach for All Natural Caffeinated Lemonade after a long workout.  The sweet-tart flavor is excellent for quenching my thirst and restoring a little spring in my step.
Grab one with breakfast as a coffee alternative.  I enjoy drinking All Natural Caffeinated Tangerine Juice with sunny side up eggs for breakfast.
All Natural Caffeinated Apple Juice or Fruit Punch is a cool drink to bring with you on afternoon car trips, like when you pick up the kids from school.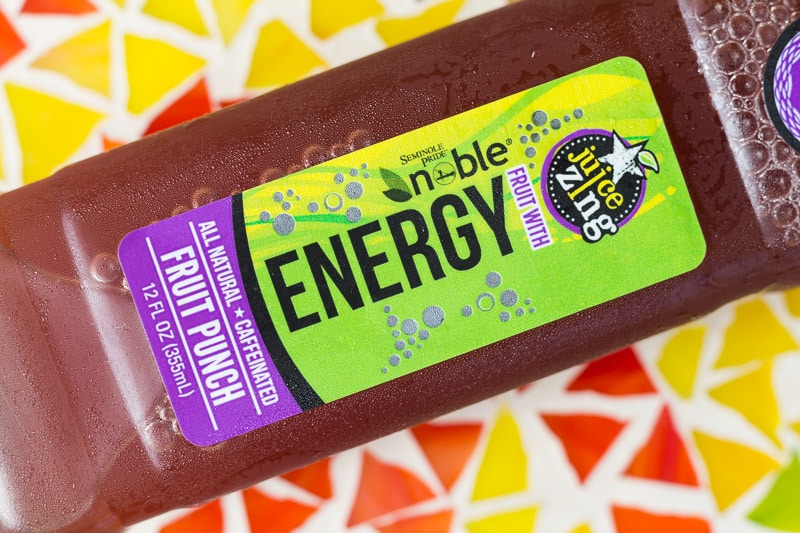 They have their juice, and you have yours.  It's totally fair.
You can find Juice Zing with other Noble Juice products at your grocery store in the refrigerated juice section.
Check out all of my recipes featuring Noble Juice!
Find out where to buy Noble Juice!