Want perfectly tender pulled pork for BBQ sandwiches or tacos? This oven pulled pork recipe is easy to make with just a boneless pork shoulder picnic roast and some spices!
Sponsored by Fire & Flavor.
Oven Pulled Pork
This easy pulled pork recipe is my go-to solution that makes perfect pulled pork. By starting with a nice dry rub marinade, you get flavorful, tender pulled pork that's suitable for all purposes from southern style BBQ pulled pork sandwiches to pulled pork tacos on Cinco de Mayo.
Because of its versatility, pulled pork can be served with coleslaw, cornbread, nachos, corn on the cob, and many other sides. Pulled pork is best paired with foods that counter the savory flavor of pork with a slightly sweet flavor (such as cornbread), or provide a texture contrast to the tender meat (such as crunchy tortilla chips or shells).
I like to use Fire & Flavor Coffee Rub for my oven pulled pork.
Its brilliantly balanced combination of ancho chile pepper, roasted coffee, brown sugar, spices, and salt made one reviewer say:
It's a magic extra ingredient that undeniably makes the flavor become an almost uncontrollable craving.
Truer words were never spoken. I've used Fire & Flavor products in many of my recipes, like cedar plank salmon and grilled bison burgers, so I can testify to their quality. You can order online or find a store near you.
A lot of people ask if you should cook pulled pork in the oven covered or uncovered. The answer is both! For this recipe, you'll briefly roast it uncovered at a high temperature to develop an exterior crust, then cover and slow cook at a lower temperature for four hours to get it good and tender.
Speaking of temperature, what temperature do you cook pulled pork? It's possible to cook it at extremely low temperatures, but I recommend 300°F in the oven so that it cooks in a reasonable amount of time while still remaining tender and moist. At 300°F, it takes about 4 hours for boneless pork shoulder picnic roast to become fall-apart tender for pulled pork.
You can use any suitable oven safe pot to cook pulled pork in the oven, from a cast iron Dutch oven to a stainless steel pot, as long as it has a lid. Using a lid after the initial high temperature roast will keep the moisture in and help cook the pork gently for maximum tenderness.
Don't forget to look for Fire & Flavor Coffee Rub, in addition to all their other great seasonings: Burger, Salmon, Chicken, Seafood, and Steak.
Oven Pulled Pork
Want perfectly tender pulled pork for BBQ sandwiches or tacos? This oven pulled pork recipe is easy to make with just a pork brisket and some spices!
Total Time
4
hours
5
minutes
Ingredients
2 1/2

pounds

boneless pork shoulder picnic roast

see note

Fire & Flavor Coffee Rub

or your favorite dry rub

2

tablespoons

tomato paste

1

cup

water
Instructions
Sprinkle the rub generously all over the pork brisket, patting it as you go to make the rub stick to the pork. Cover and marinate overnight, or 8 hours.

When ready to cook, preheat the oven to 450 F. Choose an oven safe pot that's close to the size of the pork brisket (neither too big nor too small). The pot should have a lid, but you will not need it for the first step of cooking. Gently place the marinated pork brisket in the pot with the fattiest side on top. Leave the pot uncovered.

Roast, uncovered, for 15 minutes at 450 F. While roasting, add the tomato paste to a bowl. Whisk in the water until you have a smooth liquid.

Remove the pot from the oven and carefully pour the liquid into the bottom of the pot. Cover the pot with its lid and return the pot to the oven. Turn the oven temperature down to 300 F.

Cook at 300 F for about 4 hours, or until the pork falls apart easily when tugged with a fork. (4 hours is the typical minimum time; if your roast is larger or is not boneless, just keep on cooking it until it becomes fall-apart tender.)
Recipe Notes
Boneless pork shoulder picnic roast is the traditional East Coast cut for pulled pork.  It's got a nice exterior coat of fat, which makes it self-basting, but the meat itself is lean.  Ignore the package cooking directions if they say something like "30 minutes per pound," because that will make a roast for slicing, not a tender, fall-apart roast ready to be pulled apart at the lightest touch.
Nutrition Facts
Oven Pulled Pork
Amount Per Serving
Calories 244
Calories from Fat 54
% Daily Value*
Fat 6g9%
Cholesterol 113mg38%
Sodium 146mg6%
Potassium 768mg22%
Carbohydrates 1g0%
Protein 42g84%
Vitamin A 80IU2%
Vitamin C 1.2mg1%
Calcium 15mg2%
Iron 1.8mg10%
* Percent Daily Values are based on a 2000 calorie diet.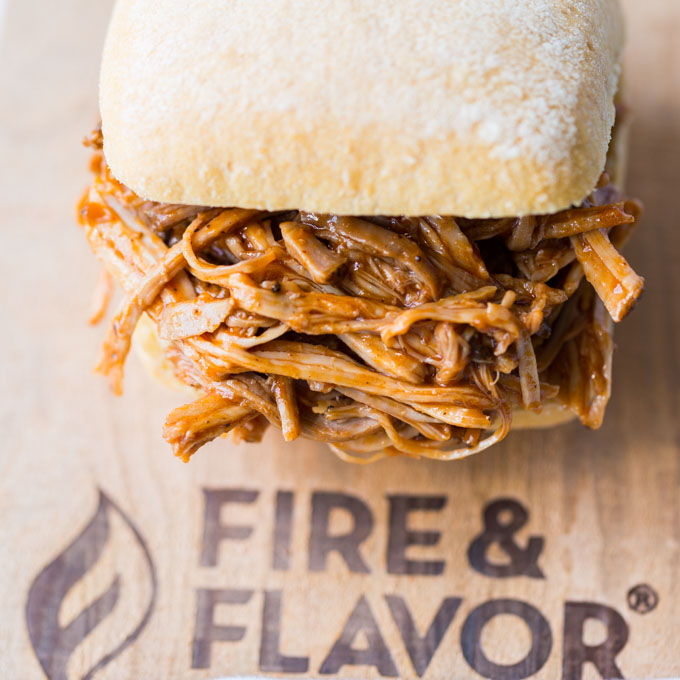 Love exciting new recipes? Try brining a turkey, or cooking fresh veggies in cedar wraps!