How do you know when brownies are done? This handy guide will help you know exactly when your brownies are ready to come out of the oven! Some links below are affiliate links; when you shop, your purchase helps support this site at no cost to you.
How to Tell When Brownies Are Done
The first toothpick (on the left) demonstrates what underdone or underbaked brownies look like. Generally, if you take brownies out at this stage, they will be extremely wet in the center and will only be firm if refrigerated. They will be difficult, if not impossible, to cut neatly at room temperature.
Some recipes recommended underbaking for a "fudgier" taste. That's up to your personal preference, but I find brownies at this stage to be too goopy to enjoy properly.
The center toothpick is from a batch of brownies that are completely baked but not overdone. There is still a smear of brown color on the toothpick- but NO wet batter- and there are a few moist crumbs sticking to the toothpick after it comes out. These brownies are done!
The final toothpick on the right was inserted in an overbaked pan of brownies. It is completely clean, with no brown color and no moist crumbs. It's so clean that you can't really tell that you inserted it in a pan of brownies.
One note of caution: If you use chocolate chips or pieces, or another mix-in that is melty or moist, you'll have to be more observant when testing to see if you brownies are done. If you accidentally poke some melted chocolate, your toothpick will look wet no matter how thoroughly baked the brownies are.
In this case, I recommend getting a few toothpicks and poking several places in the center to get an idea of how done your brownies are.
Also check out how to tell when spaghetti is done!
My Favorite Cocoa Powder for Brownies
I'm really picky about the type of cocoa powder that I use in brownies. My absolute favorite is Guittard Cocoa Rouge for its smooth yet intense flavor.
I've been pleased with this cocoa powder in all kinds of recipes, but it particularly shines in brownies.
Try My Famous Brownie Recipe
If you're looking for a great brownie recipe, my most popular brownie recipe is these decadent Flourless Brownies!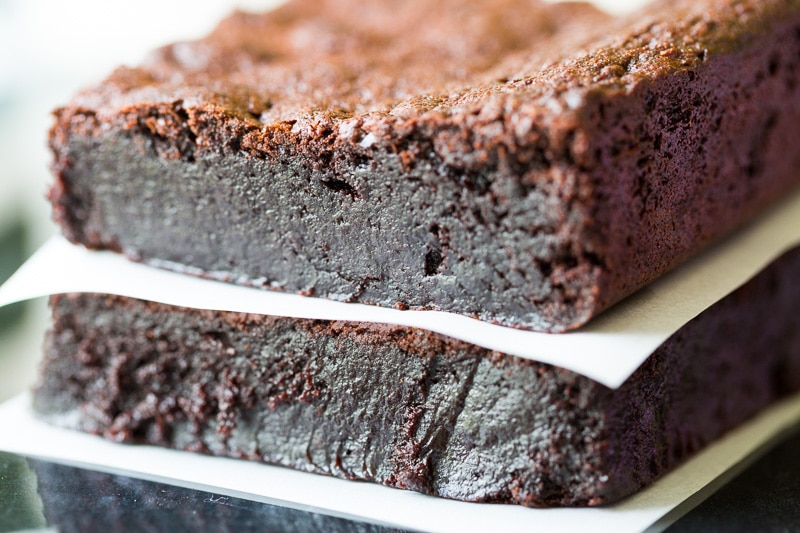 Now that you know how to tell when brownies are done, here are some more helpful articles I've written about brownies.